Public Outreach Event: Cafè Philosophique "Will the IoT Bring Happiness?"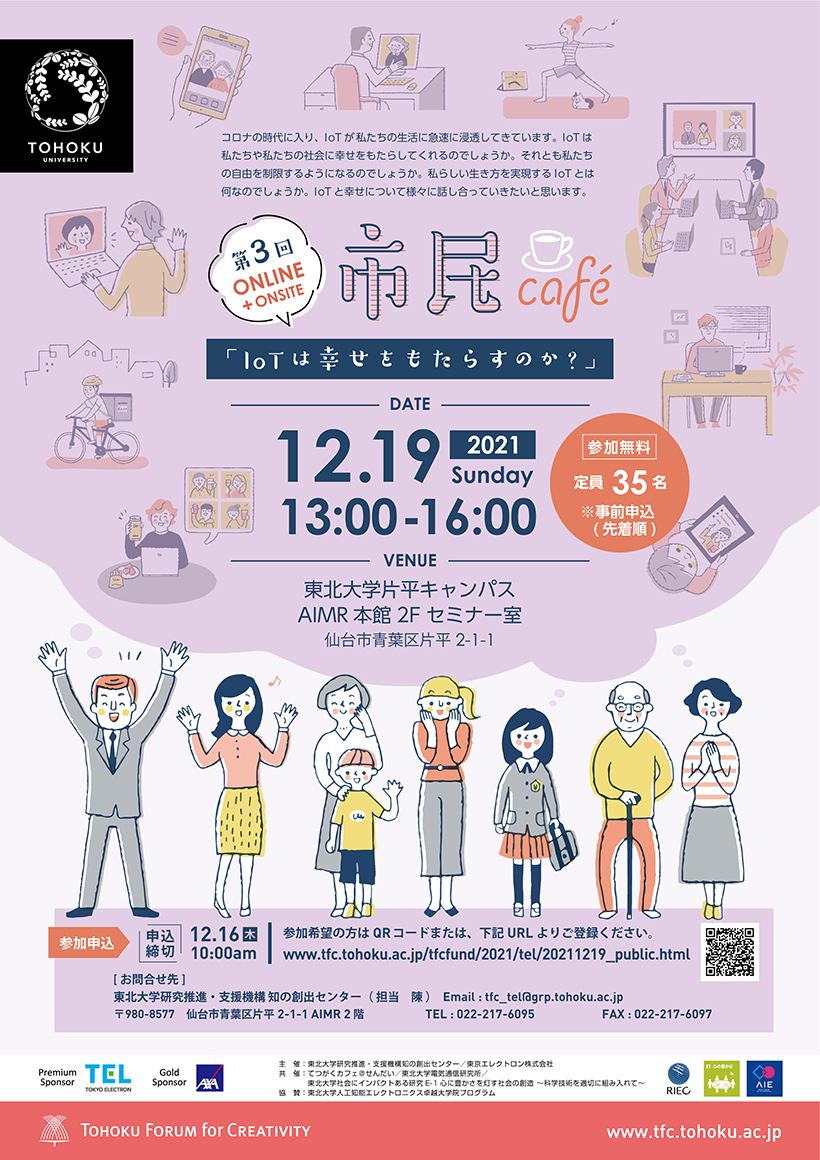 Information
As we enter the era of COVID, the IoT is rapidly penetrating our lives. Will the IoT bring happiness to us and our society, or will it start to limit our freedom? We would like to discuss various aspects of IoT and happiness.
∗This event will be held in Japanese.
Date
Sunday, December 19, 2021 13:00 – 16:00
Venue
Onsite + Online (Depending on the circumstances of the spread of the coronavirus, it may be switched to full online or decrease the numbers of onsite participants.)
· Onsite: 2F Seminar Room, Advanced Institute for Materials Research (AIMR), Tohoku University [Access]
· Online: Zoom Meeting
Registration
Registration Deadline: Thursday, December 16, 2021 10:00(JST)
Capacity: 35 (onsite: 25, online: 10)
- Closed
Program
1. Explanation of the topic
2. Philosophical dialogue on what IoT can do to bring happiness to humans
3. Summary
Poster
– Download [PDF]
Contact
Email: tfc_tel*grp.tohoku.ac.jp (change*to @)
Hosted by
Tohoku Forum for Creativity, Organization for Research Promotion, Tohoku University
Tokyo Electron Limited
Co–Hosted by
Cafe Philo de Sendai
Research Institute of Electrical Communication, Tohoku University
Center for Science, Technology and Well-being Research, Graduate School of Arts and Letters, Tohoku University
In cooperation with
WISE Program for AI Electronics, Tohoku University
Link