Workshop and tutorial on solving combinatorial optimization problems utilizing Quantum Annealing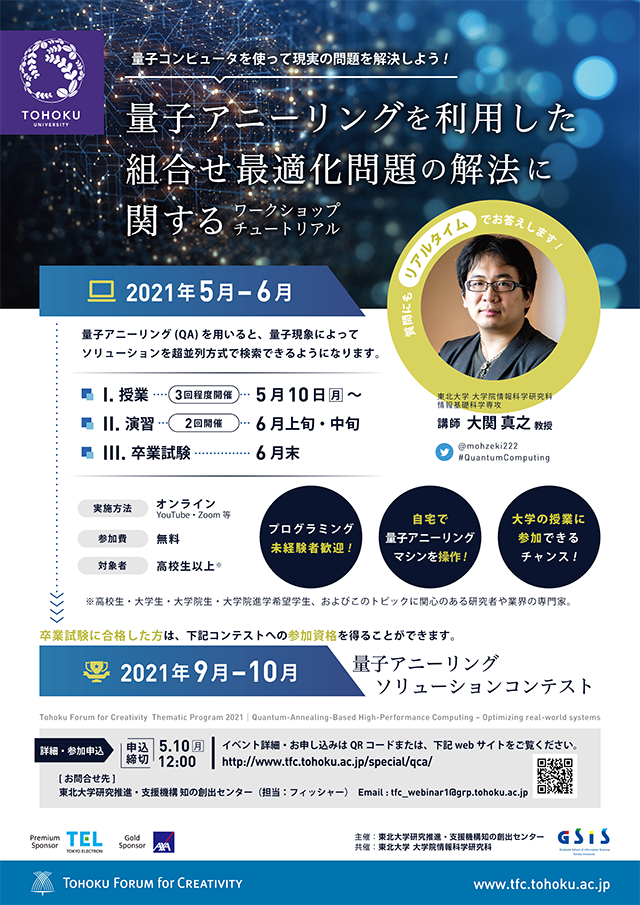 Information
[Apr. 26, 2021 Updated]
In this workshop and tutorial the skills necessary to effectively utilize Quantum Annealing will be taught from scratch. The training will take place on a real Quantum Annealing machine and participants will solve actual problems from the business world.
The contents are designed so that everyone from high–school students to university students and even industry professionals can participate and enhance their knowledge. It is a unique opportunity to take part in a university course for free and learn about Quantum Computing.
There are three parts:
I) Learn (start: May 11, 2021, 3 lectures):
Learn about Quantum Annealing computing and how to use it to solve problems through live lectures by Prof. Ohzeki. You will be able to ask questions in real time. (Delayed viewing is also possible via Youtube).
II) Exercise (start: June 2021, 2 meetings):
Put your new knowledge to the test by solving actual cases on a real quantum annealing machine. Even first time programmers can participate after two days of intensive instruction.
III) Graduate (End of June 2021):
Take the exam to prove you are able to solve difficult problems through Quantum Annealing. If you pass the graduation exam, you will be eligible to participate in the quantum annealing solution contest to be held in December – there will be awards for the most successful and creative solutions.
In addition, participants who pass the graduation exam will be able to conduct research on quantum annealing with us at T–QARD (Tohoku University Quantum Annealing Research and Development). Everyone can participate in research activities!
*This event will be held in Japanese.
Lecturer
[May 06, 2021 Updated]
Masayuki Ohzeki (Graduate School of Information Sciences, Tohoku University)
Schedule
[Apr. 26, 2021 Updated]
I) Lectures:
Tuesday, May 11, 17:00 – 20:20
Tuesday, May 18, 17:00 – 21:00
Tuesday, May 25, 17:00 – 22:00
Tuesday, June 01, 17:00 – 24:00
Tuesday, June 15, 19:00 – 22:40
II) Tutorials:
Saturday, June 05, 13:00 – 24:50
Saturday, June 12, 13:00 – 24:30
III) Graduation Test:
Tuesday, June 29, 17:00 – 22:30
Wednesday, June 30, 17:00 – 23:30
Venue
[May 10, 2021 Updated]
Online (Youtube Live)
https://altema.is.tohoku.ac.jp/QA4U/
Registration
- Closed
Registration Deadline: Monday, May 10, 2021, 12:00
Poster
– Download [PDF]

Contact
Email: tfc_webinar1*grp.tohoku.ac.jp (change * to @)
Co–Hosted by
Graduate School of Information Sciences, Tohoku University
Link