Information
In this workshop, participants will learn how to create professional-looking presentation slides (first part) and work with the coach to improve their English-language presentations (second part).
The main target of this training are staff members who represent Tohoku University at international meetings and conferences, like university leaders and project/department heads, or those who help to prepare such presentations. Researchers who present at scientific conferences are also welcome to join, but the main focus of this training are presentations about Tohoku University and its projects.
The participants' presentations should be held in English, with explanations and advice by the coach will be in Japanese.
Between the first part in January and the second part in February, there will be several weeks in which the participants will consult with the coach via email to prepare and improve their presentation slides.
Date:
Part 1: Tuesday, January 18, 2022 (afternoon)
(in between: 3 weeks to prepare slides through email consultations with the coach)
Part 2: Tuesday, February 8, 2022 (afternoon)

This workshop will be held twice, due to high demand:
Part 1: Wednesday, January 19, 2022 (afternoon)
Part 2: Wednesday, February 9, 2022 (afternoon)
Venue:
Part 1: Online (Zoom)
Part 2: TOKYO ELECTRON House of Creativity, Katahira Campus, Tohoku University [Access]
Capacity: 24 (this workshop will be offered twice, for 12 attendees each)
Registration
Fee: Free of Charge
Registration deadline: Wednesday, December 22, 2021, 23:59 (JST)
- Closed
Please indicate in the registration form which dates you would like to attend (1/18 and 2/8 OR 1/19 and 2/9). Be sure to make yourself available for both parts of the workshop.
*This form is written in Japanese.
Event Language
Participants' presentations: English
Lecture and Explanations by the coach: Japanese
Speaker
Iris Wieczorek (President, IRIS Science Management Inc.)
Coach Information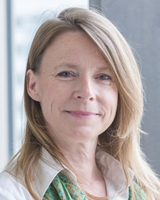 Iris Wieczorek (President, IRIS Science Management Inc.)
Dr. Iris Wieczorek studied Japanese and Chinese Studies, and Computer Science at the University of Hamburg. She has nearly 30 years of Japan experience, is involved in research management and training activities for over 25 years, and has a broad knowledge about the academic and scientific systems in Europe and Japan. In 2000, she joined the GIGA Institute for Asian Studies in Hamburg, a member institute of the Leibniz Association, where she has been working in comparative assessment of the Japanese research and innovation system. In 2008, she established the Japan Office of the German Research Foundation (DFG) in Tokyo, and acted as its director until 2012. Subsequently, she founded IRIS Science Management Inc, a Tokyo-based company specialized in career development training for early career researchers, diversity training, training for University Research Administrators (URAs), research management and in supporting "International Relations In Science". She retains a research position with the GIGA. Her work is based on a broad and trustable network in the scientific (political) communities in Japan and Europe, and she is a member of various Japanese research policy committees.
Time Schedule (tentative)
Tuesday, January 18, 2022 – Design of Presentation Slides (online)

13:00 – 14:30
Part 1
14:30 – 15:00
Break
15:00 – 16:30
Part 2
Tuesday, February 8, 2022 – Presentation Training (onsite)

13:00 – 14:30
Part 1
14:30 – 15:00
Break
15:00 – 16:30
Part 2
The second iteration of the workshop will have the same time schedule, each shifted by one day to Wednesday January 19 and February 9, respectively.
Contact
Email: tfc_webinar1*grp.tohoku.ac.jp (change * to @)
Hosted by
Tohoku Forum for Creativity, Organization for Research Promotion, Tohoku University
Tohoku University University Research Administration (URA) Center