International Symposium: Principles of pluripotent stem cells underlying plant vitality
Information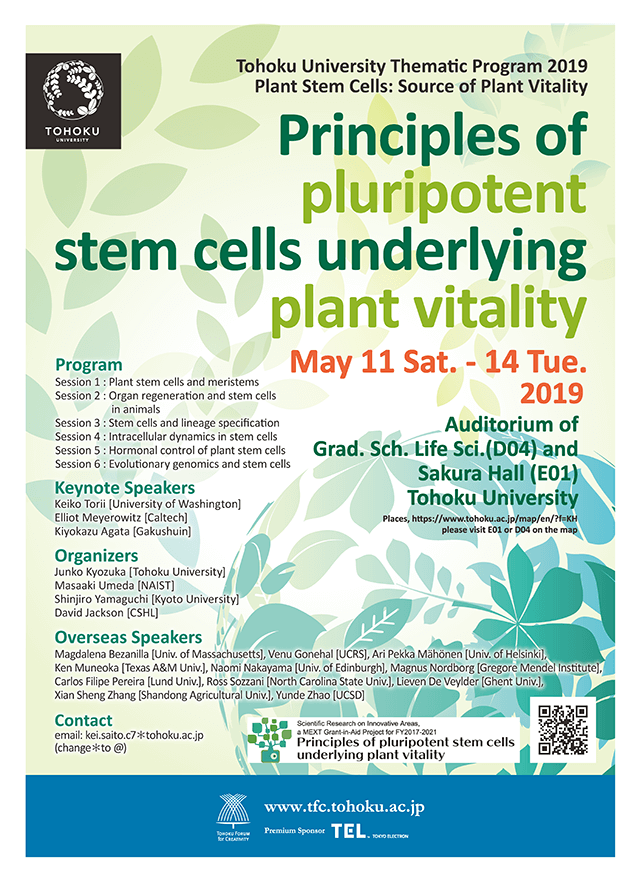 Date
May 11, 2019 – May 14, 2019
Venue
May 11, 2019 – May 12, 2019
Auditorium of Graduate School of Life Sciences, Katahira Campus, Tohoku University [Campus map]
May 13, 2019 – May 14, 2019
Sakura Hall, Katahira Campus, Tohoku University [Campus map]
Keynote Speakers
[Apr. 16, 2019 Updated]
Kiyokazu Agata (NIBB)
Elliot Meyerowitz (Caltech)
Keiko Torii (University of Washington)
Invited Speakers
[Apr. 24, 2019 Updated]
Moto Ashikari (Nagoya University)
Magdalena Bezanilla (Dartmouth College)
Lieven De Veylder (Ghent University)
Venu Gonehal (UCRS)
Gohta Goshima (Nagoya University)
Soon-Ki Han (Nagoya University)
Mitsuyasu Hasebe (NIBB)
Toshinori Hayashi (Hiroshima University)
Kimitsune Ishizaki (Kobe University)
Masaki Ito (Nagoya University)
Toshiro Ito (NAIST)
Seisuke Kimura (Kyoto Sangyo University)
Yuki Kondo (University of Tokyo)
Ari Pekka Mähönen (University of Helsinki)
Takashi Makino (Tohoku University)
Aki Minoda (RIKEN IMS)
Kyoko Miura (Kumamoto University)
Ken Muneoka (Texas A&M University)
Naomi Nakayama (University of Edinburgh)
Ryuichi Nishihama (Kyoto University)
Carlos Filipe Pereira (Lund University)
Mitinori Saitou (Kyoto University)
Akiko Satake (Kyushu University)
Ross Sozzani (North Carolina State University)
Keiko Sugimoto (RIKEN CSRS)
Atsushi Suzuki (Kyusyu University)
Takuya Suzaki (University of Tsukuba)
Koji Tamura (Tohoku University)
Tomomi Tsubouchi (NIBB)
Naoyuki Uchida (Nagoya University)
Minako Ueda (Nagoya University)
Xian Sheng Zhang (Shandong Agricultural University)
Yunde Zhao (UCSD)
Organizers
Junko Kyozuka
(Professor, Graduate School of Life Sciences, Tohoku University)
Masaaki Umeda
(Professor, Graduate School of Biological Sciences, Nara Institute of Science and Technology)
Shinjiro Yamaguchi
(Professor, Institute for Chemical Research, Kyoto University)
David Jackson
(Professor, Cold Spring Harbor Laboratory)
Time Schedule
[Apr. 24, 2019 Updated]
Saturday, May 11, 2019: Auditorium, Graduate School of Life Sciences

14:00 – 17:00
Registration
14:00 – 19:00
Poster viewing
15:25 – 15:30
Opening Remarks
Yoshiaki Maeda (Tohoku University)
Junko Kyozuka (Tohoku University)
Plenary Talk 1

15:30 – 16:15
Keiko Torii (University of Washington)
Cellular decision making during stomatal patterning and differentiation
Plenary Talk 2

16:15 – 17:00
Elliot Meyerowitz (Caltech)
Mechanical signaling in the shoot apical meristem
17:00 – 19:30
Welcome Party, Poster viewing
Sunday, May 12, 2019: Auditorium, Graduate School of Life Sciences

Session 1: Plant stem cells and meristems (Organizers; Yuki Kondo, Naoyuki Uchida)

09:00 – 09:25
David Jackson (CSHL)
An unexpected role of trehalose phosphate phosphatases in meristem determinacy.
09:25 – 09:50
Ari Pekka Mähönen (University of Helsinki)
Stem cell regulation in the Arabidopsis root vascular cambium
09:50 – 10:15
Xian Sheng Zhang (Shandong Agricultural University)
Interaction of master regulators WUS and STM specifies shoot stem cells in

Arabidopsis
10:15 – 10:35
Kimitsune Ishizaki (Kobe University)
An evolutionarily conserved mechanism for production of secondary meristems in land plants
10:35 – 10:55
Coffee break
10:55 – 11:15
Masaaki Umeda (NAIST)
Genome maintenance strategies in root stem cells
11:15 – 11:35
Naomi Nakayama (University of Edinburg)
Synthetic biology with plant single cells to dissect mechanisms of cell differentiation
11:35 – 11:55
Yuki Kondo (University of Tokyo)
Competitive inhibition among BES/BZR transcription factors controls vascular stem cell differentiation.
11:55 – 12:15
Naoyuki Uchida (Nagoya University)
Coordination of cell layer-specific behaviors of stem cells in the shoot apical meristem.
12:15 – 13:00
Lunch
13:15 – 16:30
Excursion (Sendai City Tour; ZUIHODEN - Sendai castle - Botanical Garden)
Monday, May 13, 2019: Sakura Hall

Plenary Talk 3

09:00 – 09:45
Kiyokazu Agata (NIBB)
Stem cells and regeneration in animals
Session 2: Organ regeneration and stem cells in animals (Organizers: Kiyokazu Agata, Koji Tamura)

09:45 – 10:05
Koji Tamura (Tohoku University)
Reconstruction of organ morphology in vertebrate appendage regeneration
10:05 – 10:25
Takashi Makino (Tohoku University)
JmjC domain-encoding genes specifically conserved in highly regenerative animals
10:25 – 10:50
Toshinori Hayashi (Hiroshima University)
Study of the stem cell system from organ regeneration in the newt
10:50 – 11:10
Coffee break
11:10 – 11:35
Mitinori Saitou (Kyoto University)
Mechanism and reconstitution in vitro of human germ cell development
11: 35 – 12:00
Atsushi Suzuki (Kyusyu University)
Direct reprogramming to hepatic and intestinal lineages
12:00 – 12:30
Ken Muneoka (Texas A&M University)
Induced regeneration in mice: identifying sleeper stem cells
12:30 – 13:30
Lunch
Session3: Stem cells and lineage specification (Organizers: Tomomi Tsubouchi, Makoto Hayashi)

13:30 – 13:55
Carlos Filipe Pereira (Lund University)
Cell reprogramming in hematopoiesis and immunity
13:55 – 14:20
Ross Sozzani (North Carolina State University)
Stem-cell-ubiquitous genes spatiotemporally coordinate division through regulation of stem-cell-specific gene networks
14:20 – 14:40
Keiko Sugimoto (RIKEN CSRS)
Epigenetic control of cellular reprogramming in plants
14:40 – 15:00
Tomomi Tsubouchi (NIBB)
Unique regulation of dNTP pool size and its impact on DNA replication in mouse pluripotent stem cells
15:00 – 15:20
Aki Minoda (RIKEN IMS)
Single cell RNA-seq analysis of root apical meristem in

Arabidopsis thaliana
15:20 – 15:40
Ryuichi Nishihama (Kyoto University)
Clonal analysis approach to revealing the mechanisms of stem cell formation in

Marchantia polymorpha
15:40 – 16:00
Coffee break
Session 4: Intracellular Dynamics in Stem Cells (Organizers: Han Soon-ki, Gohta Goshima)

16:00 – 16:25
Magdalena Bezanilla (Dartmouth College)
Orchestrating plant form at the single cell level
16:25 – 16:50
Lieven De Veylder (Ghent University)
Replenishing damaged stem cells: A license to kill
16:50 – 17:10
Gohta Goshima (Nagoya University)
Consequences of chromosome mis-segregation in moss stem cell
17:10 – 17:30
Masaki Ito (Nagoya University)
Cell-cycle regulation in asymmetric division of plant stem cells
17:30 – 17:50
Minako Ueda (Nagoya University)
Live-cell imaging of the polarization dynamics of Arabidopsis zygote
17:50 – 18:10
Soon-Ki Han (Nagoya University)
Cell cycle regulation in stomatal differentiation
18:30 – 20:30
Conference Party at Sakura Hall
Tuesday, May 14, 2019: Sakura Hall

Session 5 : Hormonal control of plant stem cells (Organizers: Hitoshi Sakakibara, Toshiro Ito)

09:00 – 09:25
Yunde Zhao (UCSD)
A molecular network enables auxin to control organogenesis and plant growth
09:25 – 09:50
Venu Gonehal (UCRS)
A multi scale analysis of the Interplay of hormones and transcription factors in regulating growth patterns and gene expression
09:50 – 10:10
Toshiro Ito (NAIST)
Auxin-mediated termination of floral stem cell activities
10:10 – 10:30
Moto Ashikari (Nagoya University)
Activation of intercalary meristem for stem elongation in rice
10:30 – 10:50
Takuya Suzaki (University of Tsukuba)
A peptide hormone signaling in nitrate-induced control of nodulation
10:50 – 11:10
Coffee break
Session 6 : Evolutionary genomics and stem cells (Organizers: Akiko Satake, Seisuke Kimura)

11:10 – 11:30
Mitsuyasu Hasebe (NIBB)
Mechanisms of the cell division axis determination and the regeneration of apical stem cells with implication to the body plan evolution and the adaptation to land environment
11:30 – 11:50
Kyoko Miura (Kumamoto University)
Investigation of the mechanisms underlying longevity and cancer resistance of the naked mole rat
11:50 – 12:10
Akiko Satake (Kyushu University)
Comparative field transcriptomics in trees
12:10 – 12:30
Seisuke Kimura (Kyoto Sangyo University)
Plant regeneration in nature: Studies on natural vegetative propagation
12:30 –
Closing remarks
David Jackson (CSHL)
Registration
The registration will be closed once the capacity is reached.
For Invited Speakers
Abstract submission deadline: April 12, 2019
An abstract is requested from all invited speakers.
Please email the abstract to ppscsymposiumregister*grp.tohoku.ac.jp. (Change * to @)
Note: The abstract must be converted to the Word file and PDF file.
Poster Abstract: Download template [Word], [PDF]
For General Participants
Registration fee: 8,000 JPY
Banquet fee: 4,000 JPY
(Excursion is organized in this program. If you wish to attend Excursion, please notify us when you will register.)
Payment: Please pay the registration fee by cash at the registration desk. Any credit cards are not available.
Receipts will be issued when payment is made.
Call for Posters
Participants are encouraged to present a poster.
Poster dimensions are Width: 90cm, Height: 120cm.
Deadline for a poster abstract submission: April 12, 2019
If you wish to present a poster, please email an abstract of your poster to ppscsymposiumregister*grp.tohoku.ac.jp. (Change * to @)
Note: The abstract must be converted to the PDF file.
Poster Abstract: Download template [Word], [PDF]
Event Registration
[May 10, 2019 Updated]
Closed
*On-site registration is available.
Poster
Download [PDF]
Contact
Email: kei.saito.c7*tohoku.ac.jp (change*to @)