Difference of Lifestyles Between USA and Japan: Possibility of Comparison Using Metabolomics Information.
Information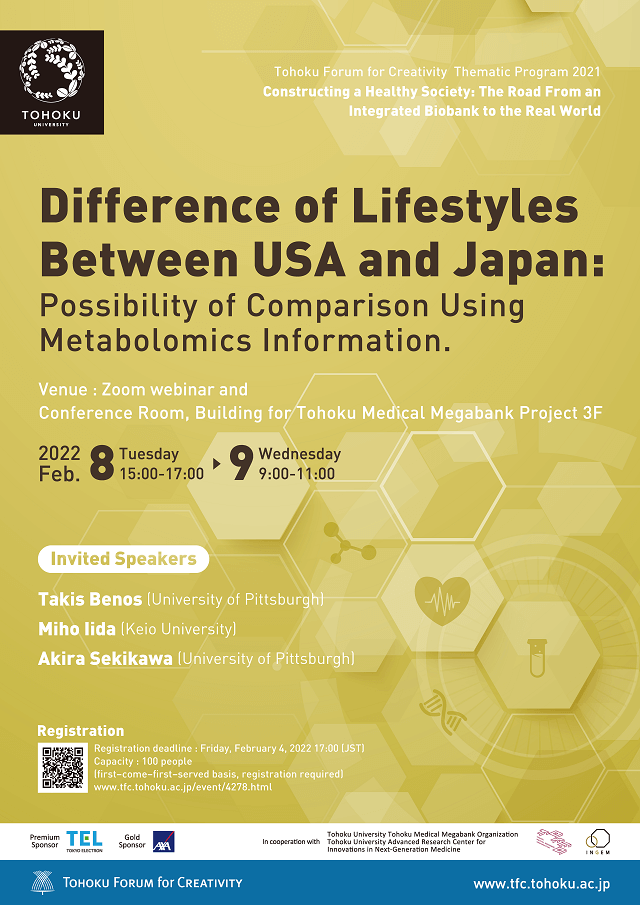 Japan has the greatest longevity in the world for the past 30 years owing largely to strikingly low mortality from coronary heart disease (CHD) – less than a third of the US – and chronic obstructive pulmonary disease (COPD) – less than a fifth of the US. The low CHD and COPD mortality in Japan is despite a worse or similar profile of lifetime exposure to risk factors in Japan compared to the US (higher rates of cigarette smoking, hypertension, etc. in Japan). Studies of migrant Japanese to the US documented dramatic increase in CHD, indicating that the low CHD rate in Japan is unlikely to be purely due to genetic susceptibilities but some lifestyle factors. Metabolomics has emerged as biomarkers of lifestyle factors and is an attractive tool to investigate potential reasons for the low rates of CHD and COPD in Japan.
Prof. Sekikawa at the University of Pittsburgh has been investigating atherosclerosis, risk and lifestyle factors by comparing data obtained from Japanese in Japan, Japanese Americans and White Americans.
Prof. Benos at the University of Pittsburgh is one of the leading scientists in the US in computational and systems biology and is an investigator of NIH (NHLBI) Trans-Omics for Precision Medicine (TOPMed[SA1] ). Dr. Benos has developed novel machine learning methods to investigate biological processes pertinent to health and disease by integrating high-dimensional, multi-modal biomedical data.
The Tsuruoka Metabolomics Cohort Study (TMCS) and Tohoku Medical Megabank Project are two major large prospective cohort studies in Japan with metabolomics information.[SA2]
In this session, we would like to discuss characteristics of metabolomics in Japan and potential of new methods for analyzing metabolomics.
Applying his methods to compare the Japanese USA metabolomics difference might have a potential to improve our understanding of this issue.
Date
Tuesday, February 8, 2022 – Wednesday, February 9, 2022
Venue
Hybrid (Zoom webinar / Conference room, Building for Tohoku Medical Megabank Project 3F Tohoku Medical Megabank Organization, Tohoku University)
Invited Speakers
Takis Benos (University of Pittsburgh)
Miho Iida (Keio University)
Akira Sekikawa (University of Pittsburgh)
Speakers
Atsushi Hozawa (Tohoku University)
Yoshiki Ishibashi (Keio University)
Mana Kogure (Tohoku University)
Minako Matsumoto (Keio University)
Naoki Nakaya (Tohoku University)
Mizuki Sata (Keio University)
Takuma Shibuki (Keio University)
Masato Takase (Tohoku University)
Registration
Registration Deadline: Friday, February 4, 2022 17:00 (JST)
– Closed
Time Schedule
Tuesday, February 8, 2022

Young Scientists' session

General Moderator: Toru Takebayashi (Keio University) / Naoki Nakaya (Tohoku University)

15:00 – 17:00
Presentations: each 15 min (Talk 10 min, QA 5 min)


Mizuki Sata (Keio University)
Association of blood pressure with salty food intake behaviours and sodium-to-potassium ratio


Minako Matsumoto (Keio University)
Validity assessment of self-reported medication use in a pharmacoepidemiology research (by comparing to medical and pharmacy insurance claims)


Yoshiki Ishibashi (Keio University)
Metabolomics-Based Study of Environmental Exposure to Cadmium in Urine and Plasma in a Population-Based Study


Takuma Shibuki (Keio University)
Association of insomnia and poor blood sugar control with sarcopenia, sarcopenic obesity and physical performance in Japanese community-dwelling older adults


Masato Takase (Tohoku University)
Associations between the combined fat mass index and fat-free mass index with carotid intima-media thickness in a Japanese population: The Tohoku Medical Megabank Community-based Cohort Study


Mana Kogure (Tohoku University)
New insights on sodium-to-potassium ratio


Naoki Nakaya (Tohoku University)
Spousal similarities in cardiometabolic risk factors: a cross-sectional comparison between Dutch and Japanese data from two large biobank studies
Wednesday, February 9, 2022

General Moderator: Atsushi Hozawa (Tohoku University)

09:00 – 09:05
Opening remarks
Masayuki Yamamoto (Executive Director, Tohoku Medical Megabank Organization, Tohoku University)
Chair: Atsushi Hozawa (Tohoku University)

09:05 – 09:35
Takis Benos (University of Pittsburgh)
Beyond correlations. Causal inference in biological and medical data
Chair: Atsushi Hozawa (Tohoku University)

09:35 – 10:05
Miho Iida (Keio University)
Application of metabolomics to women's health: Tsuruoka Metabolomics Cohort Study
Chair: Tomonori Okamura (Keio University)

10:05 – 10:35
Akira Sekikawa (University of Pittsburgh)
Coronary heart disease mortality in Japan: Japanese experience after the Seven Countries Study
Chair: Toru Takebayashi (Keio University)

10:35 – 10:55
Atsushi Hozawa (Tohoku University)
Introduction of TMM Cohort studies, potential to clarify the Japanese longevity
10:55 – 11:00
Closing remarks
Akira Sekikawa (University of Pittsburgh)
Poster
– Download [PDF]