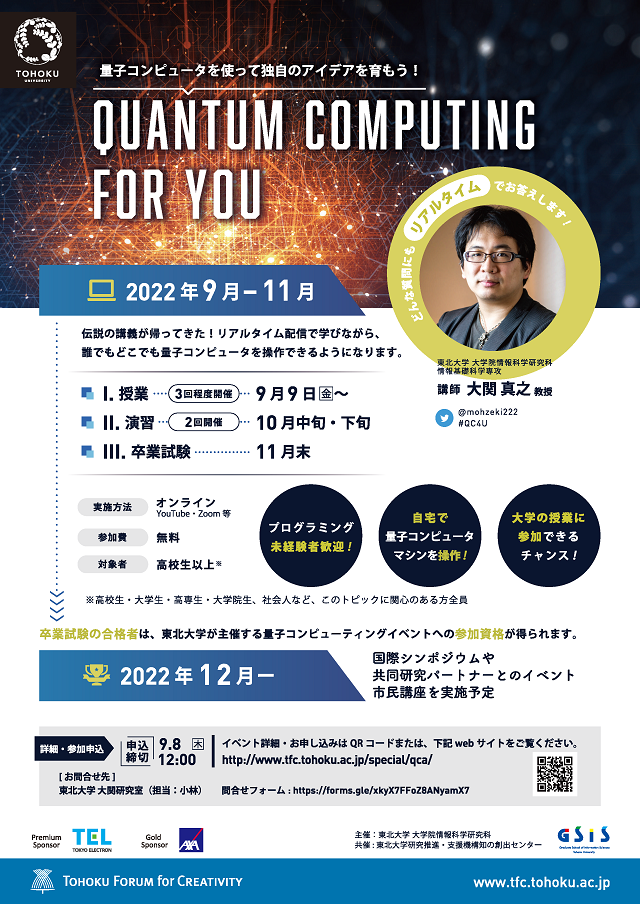 Information
The legendary lecture returns: Quantum Annealing for You (QA4U), a workshop/tutorial on solving combinatorial optimization problems using quantum annealing held in 2021, is coming back this year.
This time, instead of quantum annealing, we will challenge programming of the gate model in quantum computer. Let's all learn programming techniques to manipulate quantum computers that are being developed all over the world.
This year, again, we will have three periods: a class period, an exercise period, and a graduation examination period, and the program will be open to high school, university, graduate, and technical college students, as well as working people from all over Japan. This is an event where everyone can touch quantum computers and think about what they can do. We will be open to questions at any time, so everyone is welcome to give it a try.
There are three parts:
Ⅰ) Learn (start: Sep 09, 2022, 3 lectures):
Every week during the period, Prof. Masayuki Ozeki of Tohoku University will be online on YouTube, showing how to touch a quantum computer. You can ask him questions or make comments, and he will answer them in real time on the spot. You can learn step by step according to your understanding at any time and any place. The content is tailored for high school students, so even beginning students can become familiar with quantum mechanics and quantum computers. It is also a valuable opportunity to deepen your interaction with people of various ages and backgrounds. Please join us as you envision the future for yourself and the world.
Ⅱ) Exercise (start: Oct 2022, 2 meetings):
Based on the learning in the former period, the goal is to create a quantum computer app. In the exercise period, we'll plan what kind of apps we'll actually create, staring at the programming examples we can do and the goals we're aiming for! Mixed teams will be formed by the participants who wish to participate, referring to their diverse backgrounds. You will use your own PCs from home or school to create quantum apps while conducting planning meetings and programming with your distant colleagues. At the last QA4U, nearly 40 groups came up with their own unique apps. This will be an intense two days of realizing applications and services using actual quantum computers!
Ⅲ) Graduate (Mid of Nov 2022):
Take the exam to prove you are able to solve difficult problems through quantum computer. If you pass the graduation exam, you will be eligible to participate in the quantum computer events hosted by Tohoku University.
Upon passing the graduation exam, students will have the opportunity to present their work at events conducted by Tohoku University and partner companies consisting of joint research courses. We will help you find partners for real commercialization and monetization. Whether you are a high school student, undergraduate, graduate, or technical college student, or a working adult, this is your chance to realize the future changed by quantum computing, a technology that is now attracting worldwide attention and for which we have all been waiting.
*This event will be held in Japanese.
Lecturer
Masayuki Ohzeki (Graduate School of Information Sciences, Tohoku University)
Schedule
Ⅰ) Lectures:
Friday, September 9, 17:00 – 20:00
Friday, September 16, 17:00 – 20:00
Thursday, September 22, 17:00 – 20:00
Ⅱ) Tutorials:
Saturday, October 15, 13:00 –
Saturday, October 22, 13:00 –
Ⅲ) Graduation Test:
Monday, November 21, 17:00 –
Tuesday, November 22, 17:00 –
Venue
Online (Youtube Live)
Registration
Registration Deadline: Thursday, September 8, 2022, 12:00
– Closed
Poster
– Download [PDF]
Contact
Hosted by
Graduate School of Information Sciences, Tohoku University
Co–Hosted by
Tohoku Forum for Creativity, Organization for Research Promotion, Tohoku University
Link