Information
The lecture will be given in English.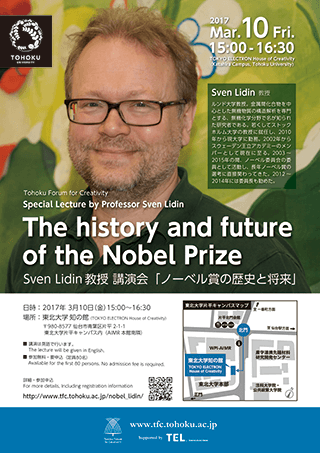 Date and Time
Friday, March 10, 2017 15:00 – 16:30
Venue
TOKYO ELECTRON House of Creativity 3F, Lecture Theater, Katahira Campus, Tohoku University
[Access]
Speaker
Sven Lidin (Professor, Lund University)
Prof. Sven Lidin's research is focused on the structural analysis of intermetallic compounds, and is a leading scientist in the field of inorganic chemistry. Prof. Lidin was appointed a professor at Stockholm University at a young age, has been a professor at Lund University since 2010. He has also been a member of the Swedish academy since 2002. From 2003 to 2015, he was involved in the selection of the Nobel Prize as a member of the Nobel committee, and was the chair of the committee from 2012 to 2014.
Event Registration
Closed
*On-site registration is available.
Poster
Download [PDF]
Video
[Apr. 05, 2017 Updated]