Report
·
Falling Walls Science Summit and Berlin Science Week 2021
·
Falling Walls Lab Pitches – Emerging Talents
·
Berlin Science Week
·
Falling Walls Lab Sendai
Falling Walls Science Summit and Berlin Science Week 2021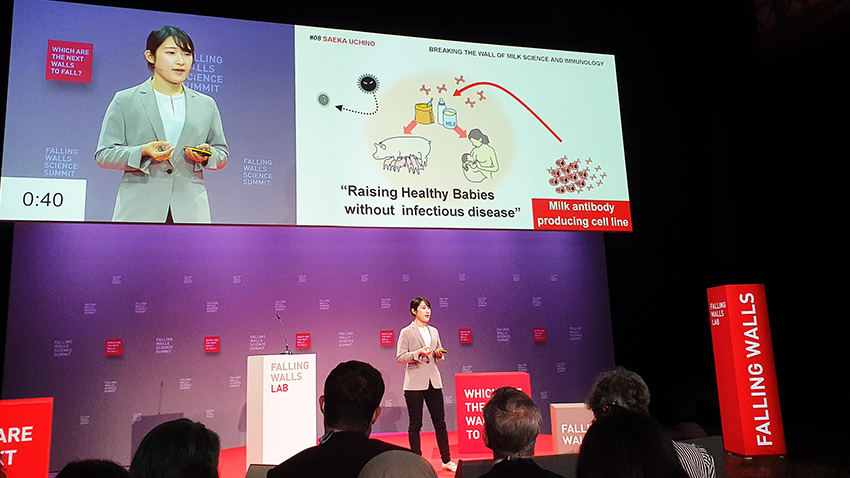 Falling Walls Lab Pitches – Emerging Talents
Date: November 7, 2021
FALLING WALLS / SCIENCE SUMMIT 2021

72 Falling Walls Lab events were held in 60 countries this year, hosted by top academic institutions around the world, like Katholieke Universiteit Leuven, Tohoku University, and the University of Cape Town. The Winners of these international Lab events automatically qualify for the global finale in Berlin on 7 November. This year's innovative ideas included affordable water filters that increase access to potable water, novel methods to combat increasing bacterial resistance, and insights regarding the use of satellite technology to protect coral reefs.
Chaired by Sarah Springman (Rector of ETH Zürich), the renowned jury performs the difficult task of selecting three winners to be awarded the title "Falling Walls Breakthrough of the Year in the Emerging Talents Category" and to receive a cash prize.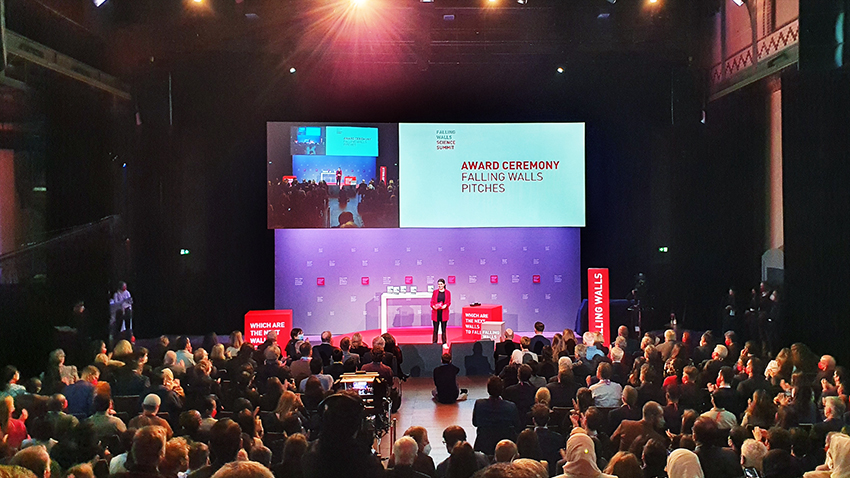 Falling Walls Lab Sendai 2021 winner Saeka Uchino, a Ph.D student at Tohoku University's Graduate School of Agricultural Science, participated in Berlin with her presentation on "Breaking the Wall of Milk Science and Immunology".
Saeka Uchino pitching at the Finals in Berlin:

Berlin Science Week
Berlin Science Week was established in 2016 as a platform for international scientists and organisations to share insights into current topics through open and interdisciplinary discussions. It runs annually from November 1 – 10, and includes the international Falling Walls Lab competition and conference.
Date: November 1–10, 2021
Website: BERLINSCIENCEWEEK.COM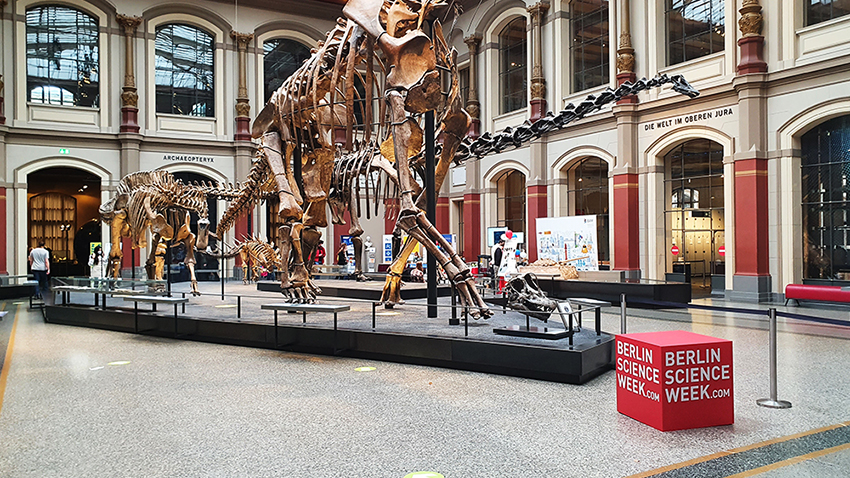 Berlin Science Week 2021 Public Lecture: The Future of Digital Health
Tohoku University hosted a public lecture at Berlin Science Week on November 5. The event attracted an in–person audience at the Museum für Naturkunde in Berlin, and was also streamed to some 200 viewers around the world.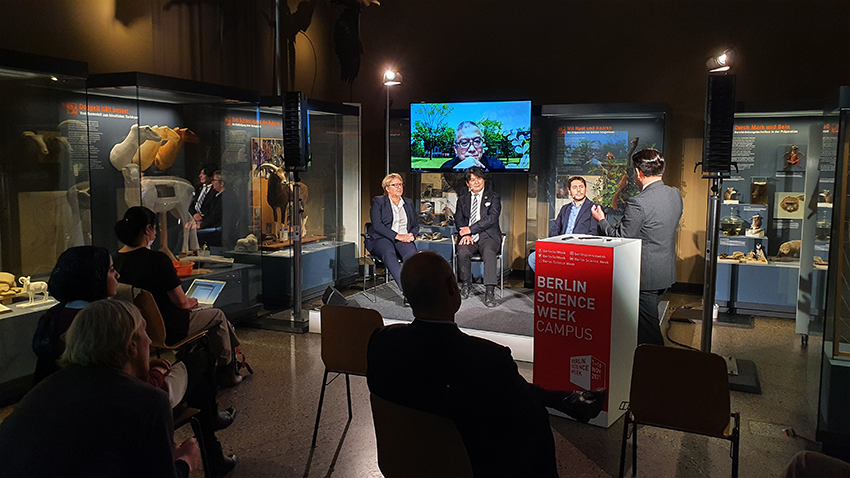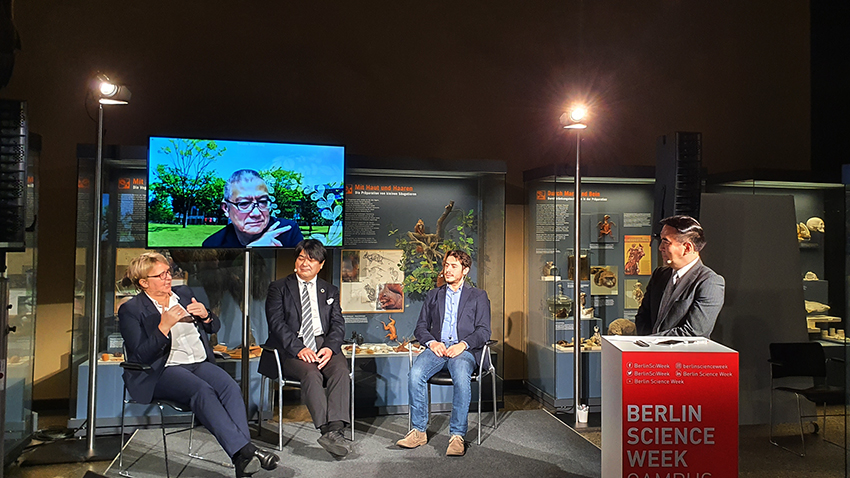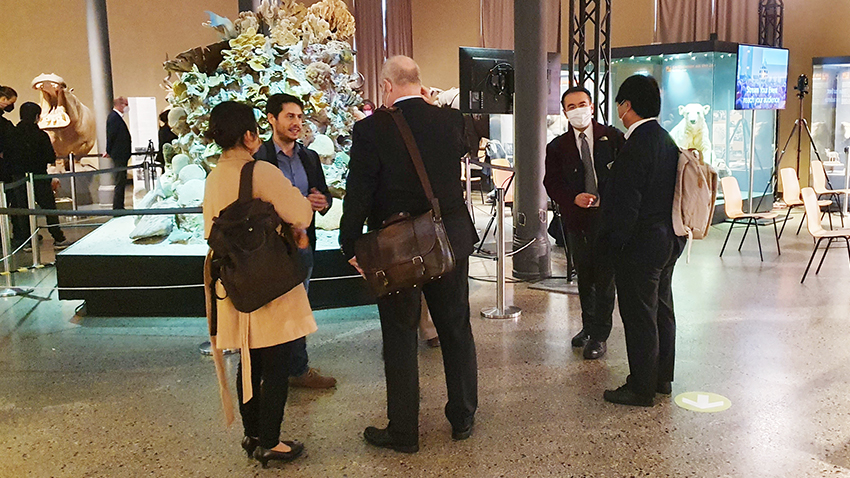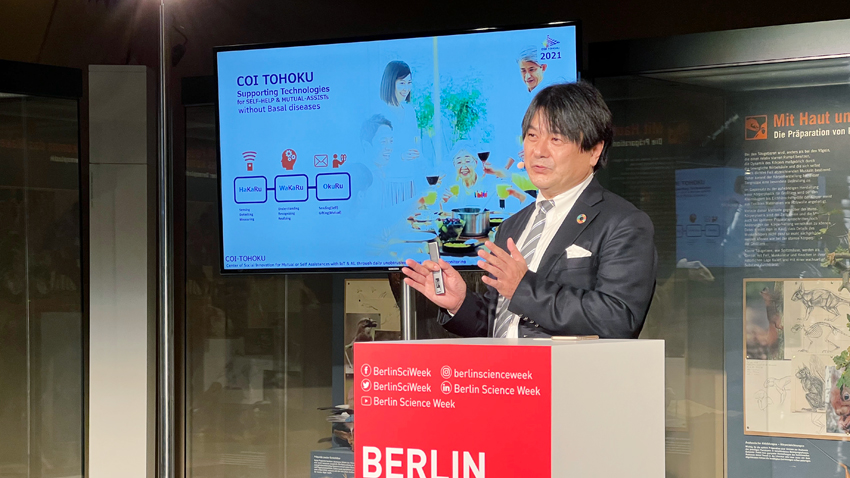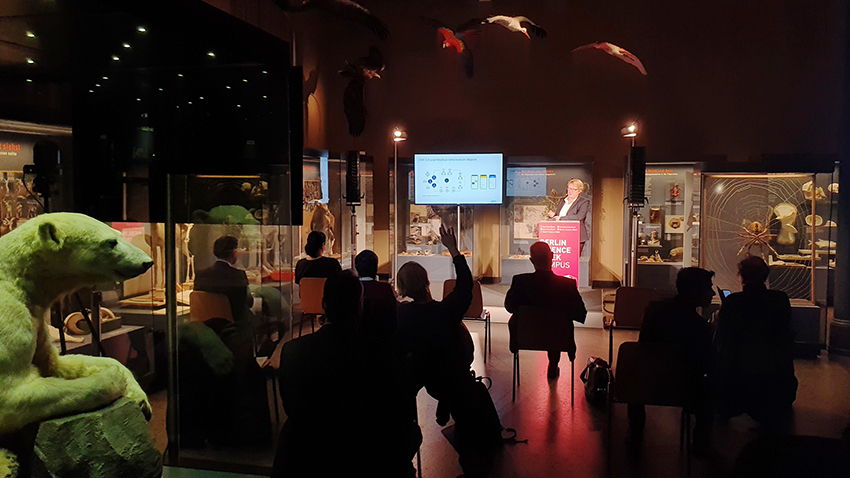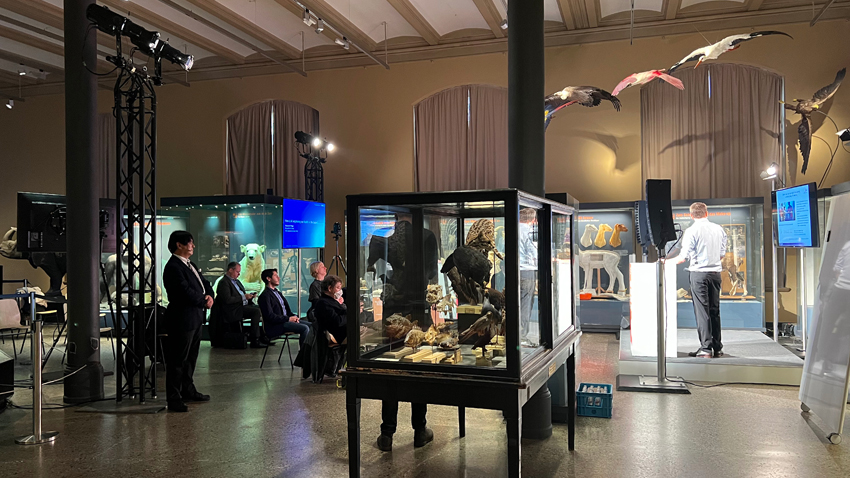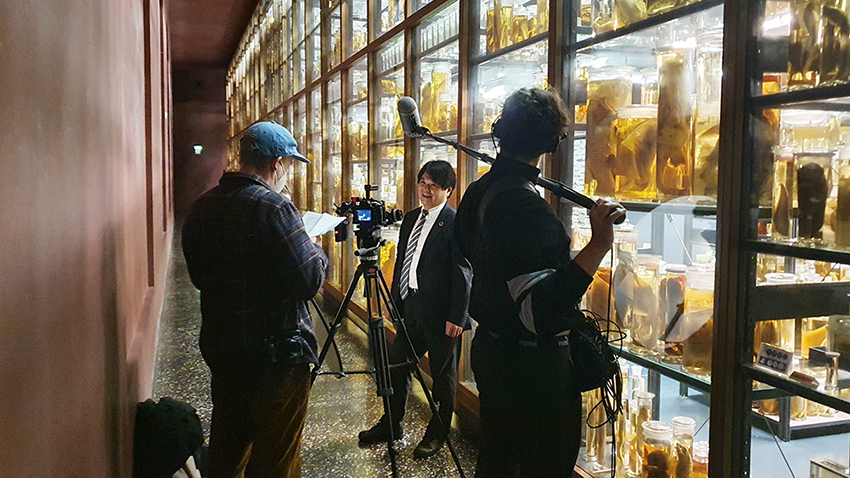 (Waga Interview)
After a brief welcome message from Tohoku University's Executive Vice President for Research Motoko Kotani, the four–member panel explored the future of digital health, and the impact of rapidly evolving technology and data science on both lifespan and lifestyles.
Recording of the event:

Speakers
Ryoichi Nagatomi (Dean, Graduate School of Biomedical Engineering, Tohoku University)
Giampaolo Pileggi (Research Scientist, NEC Laboratories Europe GmbH)
Sylvia Thun (Director, Core Facility Digital Medicine and Interoperability, Berlin Institute of Health)
Iwao Waga (Project Leader, Tohoku University Center of Innovation Project / Professional Fellow, NEC Solution Innovators Ltd.)

Moderation: Kenichi Inaho (Tohoku University)
MC: Jonas Fischer (Tohoku Forum for Creativity, Tohoku University)
Date: November 5, 2021
Venue: Museum für Naturkunde Berlin, Polar Bear Room
Capacity: 18 Onsite + 500 Online
Time: 10:00–11:30 (CET) / 18:00–19:30 (JST)

Links:
· TFC WEB site
· BERLINSCIENCEWEEK.COM
· Report by Tohoku University
· FWL Official
Falling Walls Lab Sendai
Date: August 31, 2021
Time: 13:30 – 17:15
Venue: Online
Falling Walls Lab Sendai was a great success with over one hundred live viewers, and outstanding performances from all the participants. The audience enjoyed the huge diversity of topics spanning AI, Climate Change, and mRNA vaccines but also Abandoned Countrysides, Income Inequality, and the Beauty of Mathematics, among many others.
MC for the event was Atsuko Kohata, TV presenter and a radio personality, best known as movie commentator on programs such as TBS "King's Brunch".
Among the 25 presenters, we are delighted to announce the three winners and two Audience Award winners of Falling Walls Lab Sendai 2021.
1st Place
Saeka Uchino (Tohoku University) – Breaking the Wall of Milk Science and Immunology
2nd Place
Manjit Singh Grewal (Tohoku University) – Breaking the Wall of Clean Energy from Marine Biomass
3rd Place
Aditya Saha (Tohoku University) – Breaking the Wall of Unaffordable Solar Energy
Audience Award (two winners with same number of votes)
Li Xue (Tohoku University) – Breaking the Wall of Computer–assisted Prediction
Joy Sambo (Hokkaido University) – Breaking the Wall of Menstrual Hygiene Management Practices
Our winner, Ms. Saeka Uchino is going to present her research at the Falling Walls Finale taking place in Berlin from November 7–9.
We would like to express our gratitude to all participants and viewers of the event!

Saeka Uchino (Tohoku University)

Manjit Singh Grewal (Tohoku University)

Aditya Saha (Tohoku University)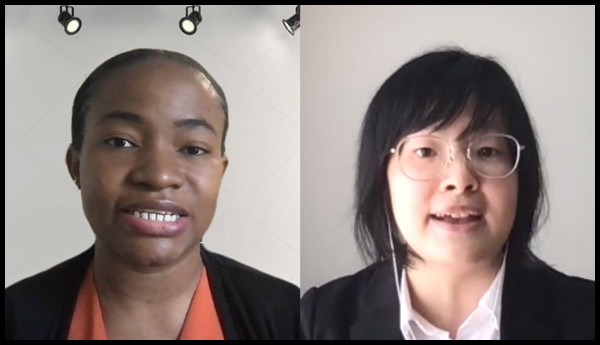 Audience Award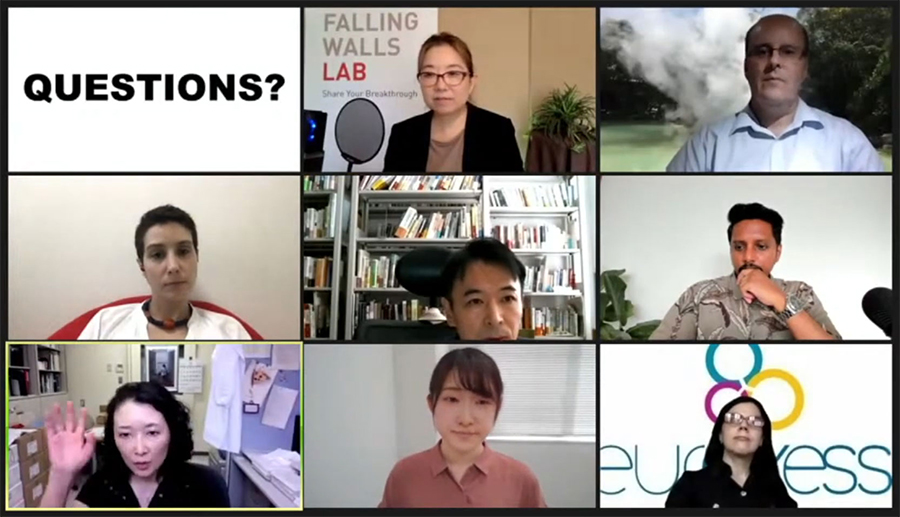 Q&A Session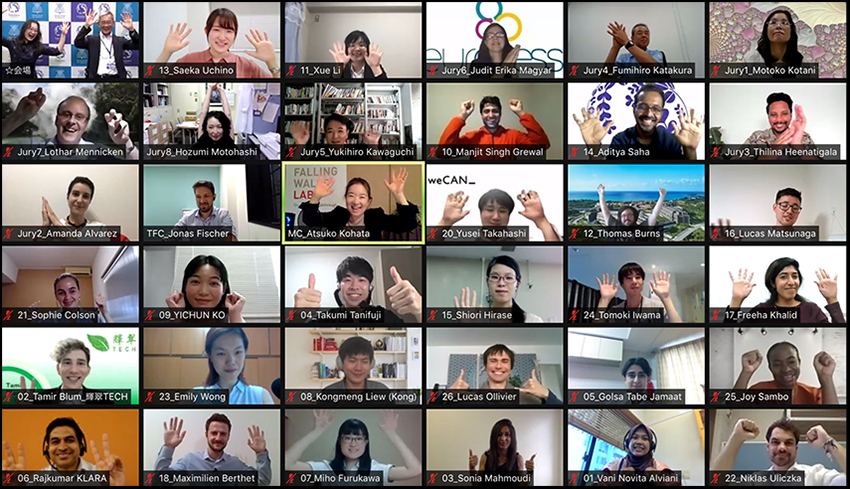 Group Photo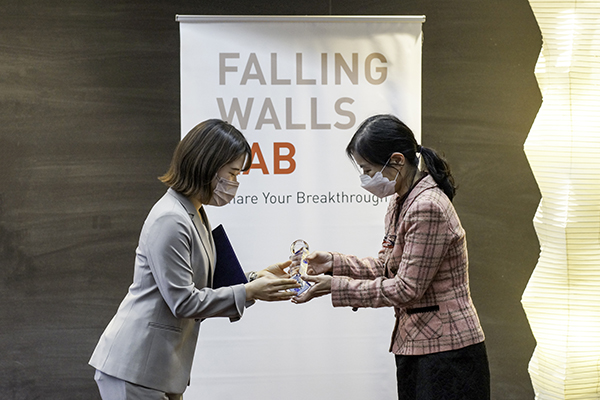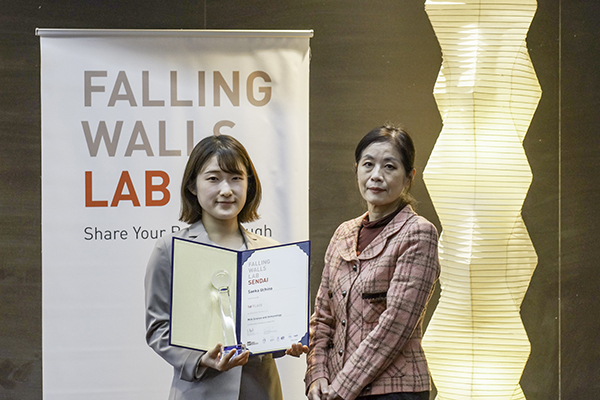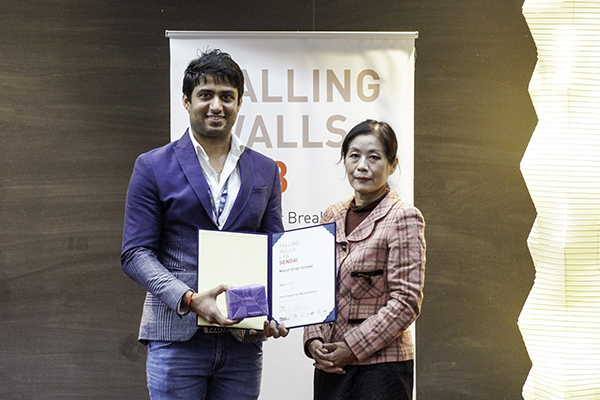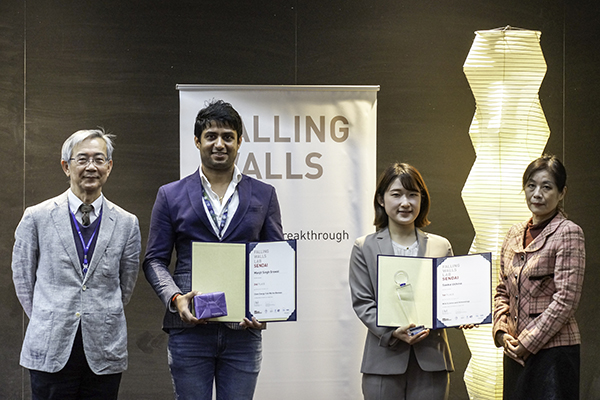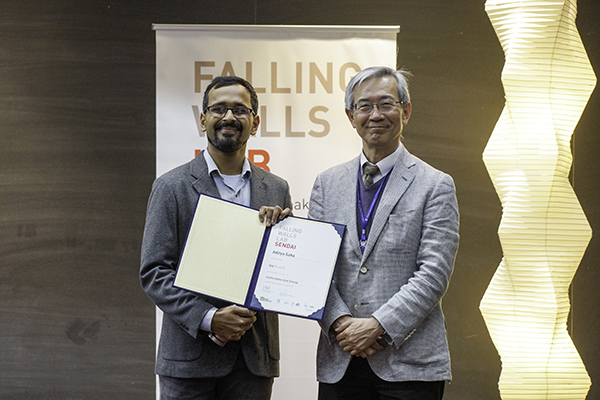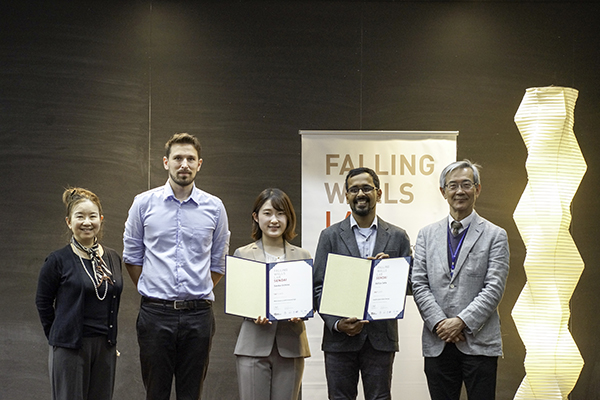 Awards Ceremony