Toshiki Kawai
Tokyo Electron Limited, Representative Director, President & CEO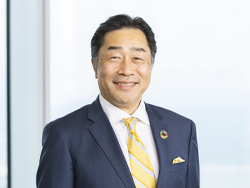 As humanity currently faces an unprecedented battle against infectious diseases, innovative technologies represented by semiconductors are being used for teleworking, online education and medical treatment, video distribution, and high performance computing (HPC) for drug discovery. Technological innovation plays an important role in such endeavors. In the future, as life in a new normal unfolds, it is expected that information and communication technology (ICT) will continue to be implemented throughout society, making it more resilient. On the other hand, various issues are becoming ever more serious around the world, including not only infectious diseases but also extreme weather, natural disasters, the infringement of human rights, conflicts between countries, and cyber terrorism.
In 2015, the Sustainable Development Goals (SDGs) were adopted by the United Nations. There is a growing movement of industry, academia, and government joining forces at the global level to solve various problems and ultimately achieve the SDGs. Companies are expected to make effective use of their management resources from a mid-to-long-term perspective and to contribute to the achievement of the SDGs through their business activities.
Tokyo Electron (TEL) has been a leading company of semiconductor and flat panel display (FPD) production equipment since its founding in 1963, and has continued to grow ever since. We have also continuously engaged with Tohoku University over many years in an industry-academia collaboration to develop both human resources and technology, mainly in the field of semiconductors. Moreover, TEL feels profound agreement with the goals of the Tohoku Forum for Creativity (TFC) of Tohoku University, the first large-scale visitor research institute founded at a Japanese university, and has been a sponsor since its founding in 2013.
The TFC brings together world-leading researchers, including winners of the Nobel Prize and the Fields Medal, to conduct research in a variety of fields to support a sustainable society. Based on TEL's corporate philosophy of, "We strive to contribute to the development of a dream-inspiring society through our leading-edge technologies and reliable service and support," we will leverage our partnership with the TFC to create new value by combining diverse and highly specialized academic expertise with the resources of our company.
With this program serving as a forum for creating opportunities for leading young researchers to connect with the world, we will contribute to the development of globally-minded human resources.
It is our sincere wish that by serving as a highly influential forum gathering world-class knowledge from around world, Tohoku University's TFC will contribute greatly to the development of a prosperous society.