Quantum Annealing Solution Contest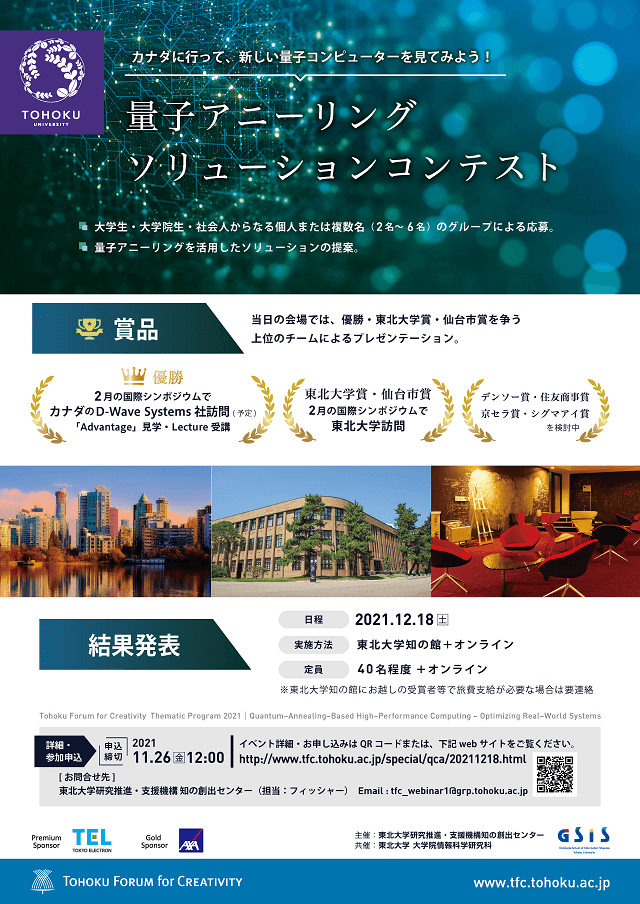 Information
This contest is aimed at university students, graduate students, and industry professionals who have experience with Quantum Computing or participated in the previous workshop to learn the necessary skills. Here, participants will utilize Quantum Annealing to solve actual problems from the business world.
To participate in the contest, small teams will present their work via YouTube videos. The solutions will be judged by a distinguished jury of industry professionals and university professors from the Quantum Computing field. It is intended that the winning team will be able to travel to Canada, to see the new Quantum Annealing machine "Advantage" at D-wave Systems headquarters and take part in a symposium. In addition, there will be several other prizes, see the details below.
You can watch the videos from our past workshop on Quantum Annealing here (in Japanese)
*This event will be held in Japanese.
Application
Applications are accepted from individuals or groups of several people (2-6 people) consisting of university students, graduate students, and industry professionals.
Propose solutions that utilize quantum annealing.
Register the team name, applicants' names, affiliations, title of the proposal, outline (1000 words or less), and slides or other explanatory materials before the registration deadline.
By the video submission deadline, create and send a video of your concept proposal, a demo, etc.
Prizes (tentative)
Presentations by the top teams competing for 1st place, Tohoku University Prize, and Sendai City Prize are scheduled to take place onsite on the day of the event.
1st Place: Travel to Canada to visit D-Wave Systems, see the new Quantum Computing machine "Advantage" and participate in the International Symposium in February.
Tohoku University Prize: Visit to Tohoku University for International Symposium in February
Sendai City Prize: Visit to Tohoku University for the International Symposium in February
Denso Award, Sumitomo Corporation Award, Kyocera Award, Sigma Eye Award, to be announced later

Evaluation Method

Judges will watch and evaluate the submitted proposal videos.
Comments from the general audience and the number of views will also be taken into account.

Jury

[Dec. 16, 2021 Updated]

Narihiro Haneda (Sigma-I / Tohoku University)
Masahiro Inagaki (Kyocera Corporation)
Masafumi Kadowaki (Denso Corporation)
Masamichi Kanzan (Sigma-I / Tohoku University)
Shiro Kawabata (AIST)
Takako Masuko (Kyocera Corporation/Tohoku University)
Hidetoshi Nishimori (Tokyo Institute of Technology)
Hideo Ohno (Tohoku University, President)
Masayuki Ohzeki (Tohoku University)
So Tanaka (Keio University)
Masayoshi Terabe (Sumitomo Corporation / Tohoku University)
Murray Thom (D-Wave Systems)

Schedule

[Nov. 26, 2021 Updated]

Application deadline: Friday, November 26, 2021 12:00
Deadline Extended: Sunday, November 28, 2021 23:59
Click here for details and application (Japanese website)
- Closed

Deadline for video submission

Thursday, December 9, 2021, 23:59 JST

Video release on YouTube

Friday, December 10, 2021
YouTube playlist
*These videos are in Japanese

Presentation event

Saturday, December 18, 2021 14:00-17:00
Venue: TOKYO ELECTRON House of Creativity, Katahira Campus, Tohoku University [Access]
Capacity: 40 Onsite + Online
Participation fee: Free
Online: Zoom
Registration: - Closed

Time Schedule

[Dec. 16, 2021 Updated]

14:00 – 14:10
Opening remarks
Masayuki Ohzeki (Graduate School of Information Sciences, Tohoku University)

14:10 – 14:25
Presentation by Sigma-I Prize Winners

14:25 – 14:40
Presentation by Sumitomo Corporation Prize Winners

14:40 – 14:55
Presentation by KYOCERA Corporation Prize Winners

14:55 – 15:10
Presentation by Sendai City Prize Winners

15:10 – 15:20
Comments from Jurys

15:20 – 15:35
Q&A and Discussion

15:35 – 15:50
Presentation by 3rd Place Team (Tohoku University Prize)

15:50 – 16:05
Presentation by 2nd Place Team (D-Wave Systems Prize)

16:05 – 16:20
Presentation by 1st Place Team (D-Wave Systems Prize)

16:20 – 16:30
Tohoku University Prize Award Ceremony

16:30 – 16:40
D-wave Systems Award Ceremony (Runner-up)

16:40 – 16:50
D-Wave Systems Prize Award Ceremony

16:50 – 17:00
Closing remarks
Hideo Ohno (Tohoku University President)

Poster

Download [PDF]

Contact

Tohoku University
Tohoku Forum for Creativity, Organization for Research Promotion, Tohoku University
Email: tfc_webinar1*grp.tohoku.ac.jp (change * to @)

Hosted by

Tohoku Forum for Creativity, Organization for Research Promotion, Tohoku University

Co-hosted by

Graduate School of Information Sciences, Tohoku University

Link