Sadayoshi Ito, Director,
Tohoku University Executive Vice President (for Research)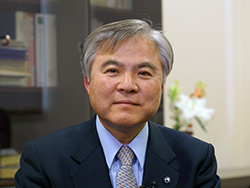 "Tohoku Forum for Creativity" is the first International Visitor Research Institute in Japan.
In this forum, we will have a few scientific programs every year, and each program lasts for about three months.
It was established on October 16, 2013 and we ran a pilot workshop called "Particle Physics and Cosmology Beyond the Higgs Boson" on October 21 – 25. Over 200 researchers participated in the workshop, including Nobel Laureates, Prof. Steven Weinberg and Prof. David Gross.
Tohoku University has announced Satomi Vision which conceives of Tohoku University as a fellowship of knowledge, open to the world, where people with diverse disciplines can gather, learn, and create. By combining the strengths of our diverse constituents, we aim to achieve two goals, namely, Achieving World-Class Status and Leaping Ahead, and Leading the Post-earthquake Restoration and Regeneration. In order to accomplish the vision, we launched the International Visitor Research Institute "Tohoku Forum for Creativity."
In this project, we invite renowned researchers, such as Nobel Laureates, to stay for a certain period of time, providing the opportunity for young researchers / students to discuss with them on a daily basis. We believe that such interactions will lead to make intellectual breakthroughs that contribute to solving the common problems of human society.
Also, we will establish international satellite stations in world–class institutions and send young researchers for middle to long terms, helping them to become global leaders in the future. Our goal is that new research ideas are explored and expanded in international joint research and international joint projects.
The city of Sendai, where Tohoku University is located, is a very wonderful city.
1) We have beautiful Jozenji street and parks with lots of green in the center of the city.
2) Sendai is a city of one million people and very comfortable to live.
3) We have preserved nature in suburbs and there are famous hot springs close by.
4) Both mountains and the ocean are close by so that you can enjoy various delicious foods.
5) Sendai is a very safe city and the people are very kind.
If you visit Sendai from overseas, an airplane from Narita airport to Sendai or the bullet train from Tokyo to Sendai, are very convenient to use.
You can see all the information on the website. We welcome your program proposals and participation in the very first International Visitor Research Institute in Japan!
We are looking forward to seeing you at Tohoku University in Sendai!