The 5th FRIS-TFC Collaboration Event: Departing the Ivory Tower: A workshop on Entrepreneurial Research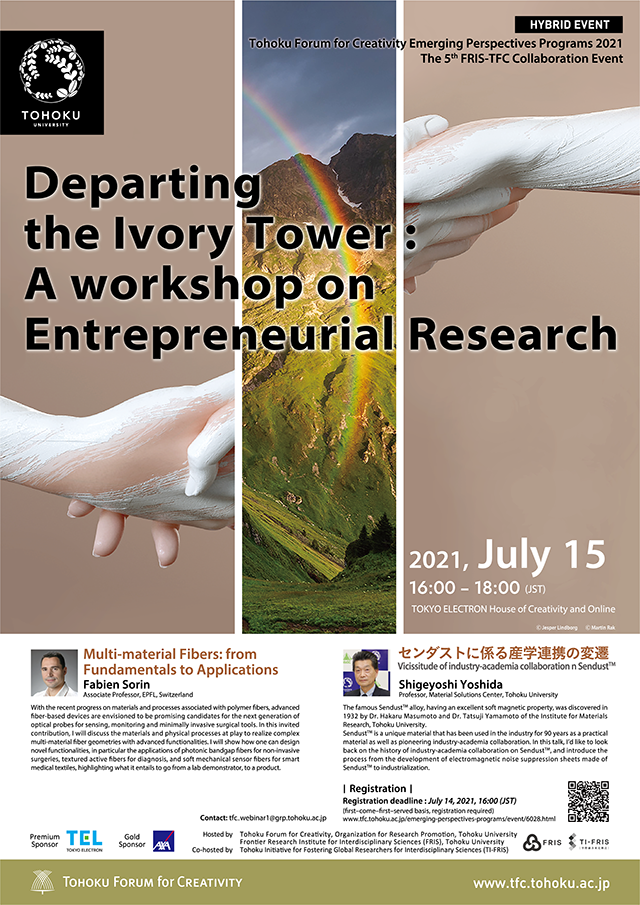 Information
How to maximize the impact of my research? How to translate the lab work into the market? What does academic entrepreneurship mean? Where should I start if I want to venture out in commercializing my research?
These questions, among others, are pondered by many researchers and academics, especially the young minds who are eager to move their lab technologies into the market.
This workshop is intended to showcase how research can transition from a purely academic endeavor to applications in the real world. Researchers and professionals will introduce their work and describe their career experiences.
In addition, it aims to help students and young researchers to plan their career, introduce options for transitioning from academia to industry (and vice versa), and also how to connect their lab research with impactful applications.
*This event will be held mostly in English and partially in Japanese.
Date
July 15, 2021 16:00 – 18:00 (JST)
Venue
TOKYO ELECTRON House of Creativity / Online (Zoom)
Capacity: 500
Registration
- Closed
Registration deadline : Wednesday, July 14, 2021, 16:00 (JST)
Invited Speakers
Fabien Sorin (Associate Professor, Institute of Materials, École Polytechnique Fédérale de Lausanne)
Shigeyoshi Yoshida (Deputy Director / Specially Appointed Professor, Material Solutions Center, Tohoku University)
Lecture Note
Fabien Sorin (Institute of Materials, École Polytechnique Fédérale de Lausanne)
Multi-material Fibers: from Fundamentals to Applications
With the recent progress on materials and processes associated with polymer fibers, advanced fiber-based devices are envisioned to be promising candidates for the next generation of optical probes for sensing, monitoring and minimally invasive surgical tools. In this invited contribution, I will discuss the materials and physical processes at play to realize complex multi-material fiber geometries with advanced functionalities. I will show how one can design novel functionalities, in particular the applications of photonic bandgap fibers for non-invasive surgeries, textured active fibers for diagnosis, and soft mechanical sensor fibers for smart medical textiles, highlighting what it entails to go from a lab demonstrator, to a product.
Shigeyoshi Yoshida (Material Solutions Center, Tohoku University)
Vicissitude of industry-academia collaboration on Sendust™
The famous Sendust™ alloy, having an excellent soft magnetic property, was discovered in 1932 by Dr. Hakaru Masumoto and Dr. Tatsuji Yamamoto of the Institute for Materials Research, Tohoku University.
Sendust™ is a unique material that has been used in the industry for 90 years as a practical material as well as pioneering industry-academia collaboration.
In this talk, I'd like to look back on the history of industry-academia collaboration on Sendust™, and introduce the process from the development of electromagnetic noise suppression sheets made of Sendust™ to industrialization.
* This talk will be given in Japanese.
Time Schedule
Chair: Yuanyuan Guo (Frontier Research Institute for Interdisciplinary Sciences, Tohoku University)

16:00 – 16:05
Opening Remarks
Toshiyuki Hayase (Director, Frontier Research Institute for Interdisciplinary Sciences, Tohoku University)
16:05 – 16:45
Fabien Sorin (Institute of Materials, École Polytechnique Fédérale de Lausanne)
Multi-material Fibers: from Fundamentals to Applications
16:45 – 16:55
Sonia Mahmoudi (Graduate School of Science, Tohoku University)
The geometry and topology behind weavings
16:55 – 17:05
Tomoki Iwama (Graduate School of Environmental Studies, Tohoku University)
Bipolar electrochemical microscopy - a new system for high spatio-temporal resolution bioimaging
17:05 – 17:45
Shigeyoshi Yoshida (Material Solutions Center, Tohoku University)
Vicissitude of industry-academia collaboration on Sendust™ (Japanese)
17:45 – 17:55
Hiroya Abe (Co-founder, AZUL Energy Inc.; FRIS / Graduate School of Engineering, Tohoku University)
Small discovery, big changes - Bio-inspired molecules for batteries (Japanese)
17:55 – 18:00
Closing Remarks
Toshiyuki Takagi (Vice Director, Tohoku Forum for Creativity, Organization for Research Promotion, Tohoku University)
Contact
Email: tfc_webinar1*grp.tohoku.ac.jp (change * to @)
Hosted by
Tohoku Forum for Creativity, Organization for Research Promotion, Tohoku University
Frontier Research Institute for Interdisciplinary Sciences, Tohoku University

Poster

- Download [PDF]