Contact Improvisation Workshop and Interdisciplinary Forum: Non-verbal Communication Through Body Movements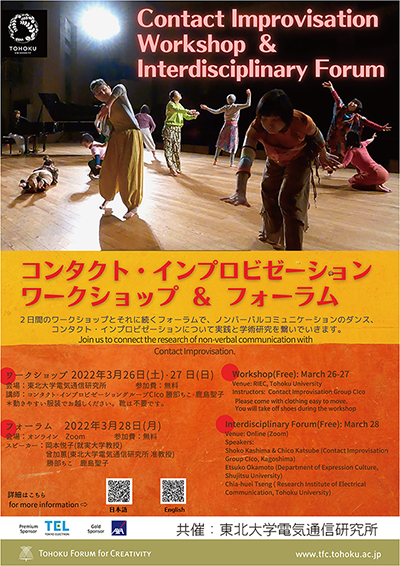 Information
Tohoku University leads an international and interdisciplinary research group to study non-verbal communication. We invite researchers and community members to join our free activities that connect artistic practices with scientific studies. No prior experience is needed, and everyone is welcomed.
Dance workshop details
Contact Improvisation involves two or more people interact and improvise to create a dance. Contact here is defined broadly beyond physical contact - self, others, the environment... all are objects of communication. In the two-day workshop, we will explore the connection between mind and body, individually, in pairs, and in groups. Two professional dancers will lead us to experience and consider a creative form of non-verbal communication.
Interdisciplinary Forum
A discussion forum will be held to explore the ongoing collaborations from perspectives in philosophy, education, and cognitive neuroscience.
Date
Workshop: Saturday, March 26, 2022 – Sunday, March 27, 2022
Interdisciplinary Forum: Monday, March 28, 2022
Venue
Workshop: Research Institute of Electrical Communication, Tohoku University [Access]
Interdisciplinary Forum: Online (Zoom) Hosted by Tohoku Forum for Creativity
Capacity
Workshop:
Japanese (max 16 People)
English (max 16 People)
Interdisciplinary Forum: 200 people (first–come–first–served basis, registration required)
Registration
Fee: Free of Charge
Registration deadline of workshops: Monday, March 21, 2022 15:00 (JST) Thursday, March 24, 2022 10:00 (JST)
- Closed
*Participants are expected to join both sessions.
Registration deadline of Interdisciplinary Forum: Thursday, March 24, 2022 10:00 (JST)
- Closed
Speakers
Shoko Kashima (Contact Improvisation Group CIco, Kagoshima)
Chico Katsube (Contact Improvisation Group CIco, Kagoshima)
Etsuko Okamoto (Department of Expression Culture, Shujitsu University)
Chia–huei Tseng (Research Institute of Electrical Communication, Tohoku University)
Time Schedule
Saturday, March 26, 2022

10:00 – 12:00
Workshop 1: Contact Improvisation Workshop (Japanese)
Instructors: Chico Katsube & Shoko Kashima (Contact Improvisation Group CIco, Kagoshima)
14:00 – 16:00
Workshop 2: Contact Improvisation Workshop (English)
Instructors: Chico Katsube & Shoko Kashima (Contact Improvisation Group CIco, Kagoshima)
Sunday, March 27, 2022

10:00 – 12:00
Workshop 1: Contact Improvisation Workshop (Japanese)
Instructors: Chico Katsube & Shoko Kashima (Contact Improvisation Group CIco, Kagoshima)
14:00 – 16:00
Workshop 2: Contact Improvisation Workshop (English)
Instructors: Chico Katsube & Shoko Kashima (Contact Improvisation Group CIco, Kagoshima)
Monday, March 28, 2022

11:00 – 12:00
Interdisciplinary Forum (English)
Shoko Kashima (Contact Improvisation Group CIco, Kagoshima)
Chico Katsube (Contact Improvisation Group CIco, Kagoshima)
Etsuko Okamoto (Shujitsu University)
Chia–huei Tseng (Tohoku University)
Contact
Email: tfc_webinar2*grp.tohoku.ac.jp (change * to @)
Hosted by
Tohoku Forum for Creativity, Tohoku University
Co–Hosted by
Research Institute of Electrical Communication (RIEC), Tohoku University
Link
Poster
– Download [PDF]