International Projects and Their Researchers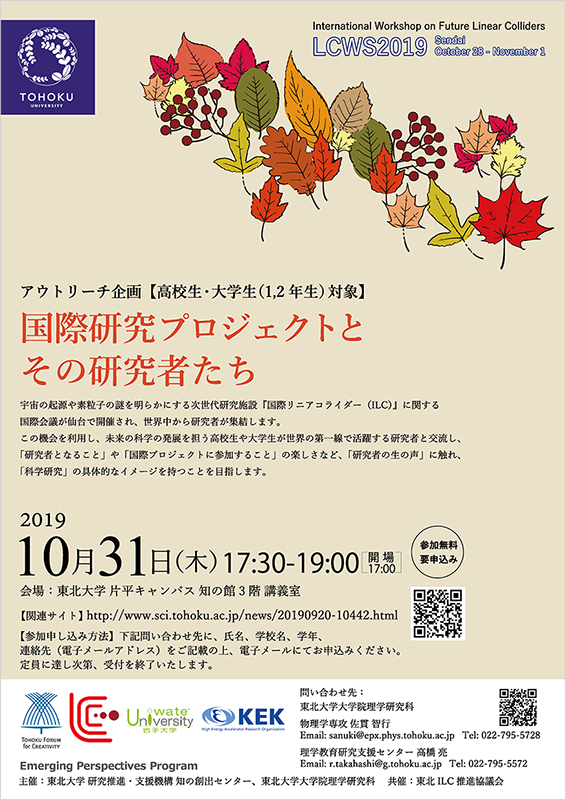 Information
An international workshop on International Linear Collider (ILC), which searches physics beyond the standard model in particle physics and current cosmology, will be held in Sendai and many researchers participate in it from around the world.
We will take this opportunity and have a social event for high school and undergraduate (1st and 2nd grades) students. The aim of the social event is to give them a specific image of "scientific research" through discussions about "adding to international project" and "becoming researchers" with researchers.
*The talks will be given in Japanese.
Date
October 31, 2019
Venue
TOKYO ELECTRON House of Creativity 3F, Lecture Theater, Katahira Campus, Tohoku University [Access]
Hosted by
・Tohoku Forum for Creativity, Organization for Research Promotion, Tohoku University
・Graduate School of Science and Faculty of Science, Tohoku University
Co-hosted by
・Tohoku ILC Promotion Council
Registration
Closed
Time Schedule
17:00 – 17:30
Registration
17:30 – 18:40
Lectures
18:40 – 19:10
Discussion
Poster
Download (Japanese) [PDF]
Contact
sanuki*epx.phys.tohoku.ac.jp (Change * to @)