The 14th Kavli Asian Winter School on Strings, Particles and Cosmology
---
In the Thematic Program 2018 of Tohoku Forum for Creativity, String-Math 2018, the follow up event will be held from January 13–22, 2020
Information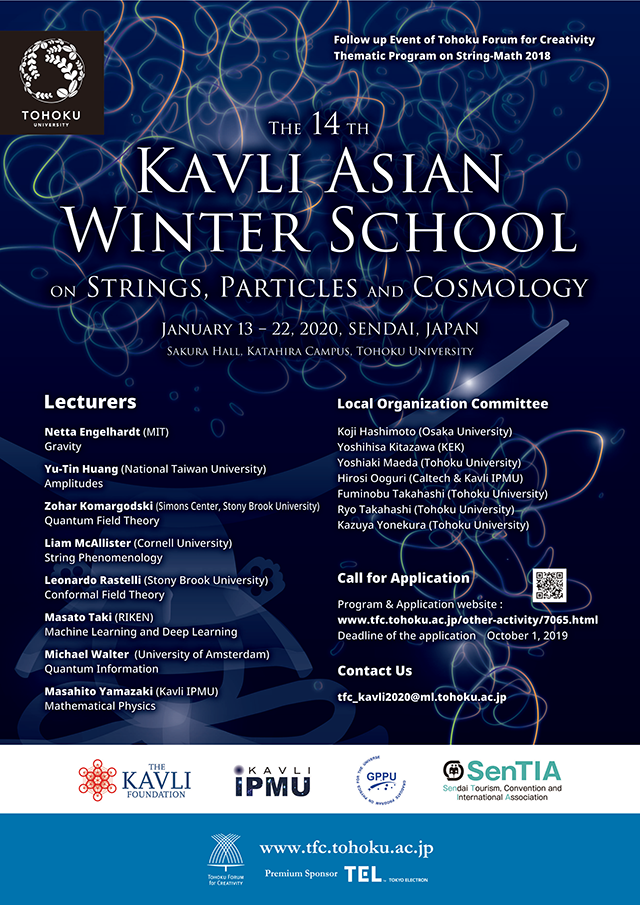 The Kavli Asian Winter School (KAWS) on Strings, Particles and Cosmology is a pan-Asian collaborative effort of high energy theorists from China, India, Japan and Korea to give young researchers in Asia an opportunity to come together and learn about the latest developments in high energy theory from leading experts on the subject.
This school is aimed towards advanced graduate students, postdoctoral fellows and active researchers in the field. This is the 14th in a series of Asian Winter Schools that have been organized on a rotating basis among Japan, China, India and Korea. We welcome students from all of these participating countries as well as students from outside.
All selected participants will be provided with accommodation (with three meals a day).
The venue of the school is Tohoku university. It is located in Sendai city which is a fascinating city to explore Japanese culture and cuisine. In addition, the school includes an excursion (two-day trip) to Zao which is a nearby town famous for hot spring and skiing.
The 2020 School is generously supported by the Kavli foundation, with additional partial funding the Kavli Institute for the Physics and Mathematics of the Universe (IPMU), Tohoku Forum for Creativity (TFC), Tohoku University, and Graduate Program on Physics for the Universe (GPPU), Tohoku University.
The previous Asian Winter Schools in this series have provided young researchers with opportunities for discussions with leading experts in different areas and also for initiating collaboration with other young researchers belonging to the different participating countries. We hope the 2020 School will continue this tradition.
Date
January 13, 2020 – January 22, 2020
Venue
Sakura Hall, Katahira Campus, Tohoku University [Campus map]
Invited Speakers
[CANCELED] Netta Engelhardt (Massachusetts Institute of Technology)
Yu-Tin Huang (National Taiwan University)
Zohar Komargodski (Simons Center, Stony Brook University)
Liam McAllister (Cornell University)
Leonardo Rastelli (Stony Brook University)
Masato Taki (RIKEN)
Michael Walter (University of Amsterdam)
Masahito Yamazaki (Kavli IPMU, The University of Tokyo)
Lectures
[Jan. 21, 2020 Updated]
Title
Quantum Field Theory
Syllabus
01. Landau - Ginzburg Models in 2+1 dimensions
02. Gauge Theories in 2+1 dimensions
03. Particles, Vortices, and Monopoles
04. Particle-Vortex Duality.
05. Phase Transitions Beyond the Landau Paradigm and Quantum Anti-Ferromagnets.
06. Chern-Simons Theory
07. The Parity Anomaly. Fermion Dualities.
08. Yang-Mills-Chern-Simons Theories.
09. Yang-Mills-Chern-Simons Theories with Matter.
10. Non-Abelian Duality and Quantum Chromodynamics in 2+1 Dimensions.
Reading list
Note
[PDF] * Member only, Password required.
Title
String Phenomenology
Syllabus
01. Vacuum solutions of string theory
02. Moduli of Calabi-Yau threefolds
03. The moduli problem in cosmology
04. Flux compactifications I: type IIB orientifolds in 10d
05. Flux compactifications II: 4d supergravity of type IIB orientifolds
06. Moduli stabilization
07. AdS vacua of Kachru, Kallosh, Linde, Trivedi (KKLT)
08. de Sitter vacua of KKLT
09. Status of the landscape
10. Inflation in string theory
Reading list
For background, I recommend:
01. arxiv.org/abs/1404.2601 especially chapters 3 and 4
02. arxiv.org/abs/hep-th/0105097
For those curious about more technical, more recent results:
03. arxiv.org/abs/1908.04788
04. arxiv.org/abs/1912.10047
Note
[PDF] * Member only, Password required.
Title
Machine Learning and Deep Learning
Syllabus
TBA
Reading list
TBA
Note
[PDF] * Member only, Password required.
Title
Quantum Information
Syllabus
01. States, Channels, Entropy
02. Entanglement
03. Entanglement in Mixed States
04. Entanglement in Field Theory
05. Entanglement in Holography
06. Toy Models of Holography
07. Error Correction, Decoupling, Black Holes
08. Tensor Network Toy Models
09. Subregion Duality and Subsystem Error Correction
Lecture note
Title
Causality in Gravity and General Relativity
Syllabus
Preliminaries on geodesics (extrinsic curvatures, geodesic congruences, Raychaudhuri equation, conjugate points, nonlocal intersections), causal structure (causality ladder, domains of dependence, causal structure of asymptotically AdS spacetimes), singularities (geodesic incompleteness, singularity theorems, singularities in AdS, cosmic censorship, black hole horizons), and time permitting, extensions of the above topics beyond classical gravity to the semiclassical regime (quantum focusing, quantum singularity theorems, quantum mean curvatures).
Reading list
Chapters 4, 6, 8, 9 of Hawking and Ellis "The large scale structure of space-time", chapters 8 and 9 of Wald "General Relativity", arxiv.org/abs/arXiv:1901.03928, and if I get to the last topic (optional, somewhat unlikely to get to it): arxiv.org/abs/arXiv:1506.02669 and arxiv.org/abs/1010.5513.
Title
Amplitudes
Syllabus
01. Massless/massive spinor helicity and the uniqueness of the three-particle amplitude
02. Lessons from the consistency conditions of the four-particle amplitude
03. Unitarity constraints on general EFT
04. Minimal couplings to black holes.
Reading list
1. Reference for massless/massive spinor helicity formalism
arxiv.org/pdf/1709.04891.pdf
2. Review for cyclic polytope
See sec.3 of
arxiv.org/pdf/1812.07739.pdf
3. Bh physics from minimal coupling
arxiv.org/pdf/1906.10100.pdf
Note
[PDF] * Member only, Password required.
Title
Analytic and Lorentzian methods in Conformal Field Theory
Syllabus
I will give an introduction to recent structural developments in conformal field theory (CFT).
These developments rely on the deep analyticity properties of CFT in Lorentzian kinematics.
I will assume knowledge of basic facts of CFT in general dimension, including: the state/operator map, radial quantization, the operator product expansion, crossing symmetry and conformal blocks.
There are many excellent reviews of this background material.
I highly recommend Slava Rychkov's lectures arxiv.org/pdf/1601.05000.pdf and David Simmons-Duffin's lectures arxiv.org/pdf/1602.07982.pdf
I will also assume some familiarity with the basic AdS/CFT dictionary.
A nice introduction in the spirit of structural CFT properties is given in Joao Penedones' lectures arxiv.org/pdf/1608.04948.pdf
Title
Mathematical Physics
Syllabus
Lectures 1-3: Integrability (and Knots) from Chern-Simons Theory
I will discuss integrable models from the viewpoint of four-dimensional analogue of Chern-Simons theory, based on my recent works with Costello and Witten.

Lecture 4: Minimalistic Introduction to the Swampland
I will introduce the concept of the swampland, and discuss phenomenological/cosmological implications of some swampland conjectures.
Reading list
Lectures 1-3:
section 1-6 of arxiv.org/abs/1709.09993
section 2-3 of arxiv.org/abs/1908.02289

Lecture 4:
Lecture 2 of arxiv.org/abs/1711.00864
arxiv.org/abs/1904.05357
Note
[PDF] * Member only, Password required.
Date and Time
[Jan. 21, 2020 Updated]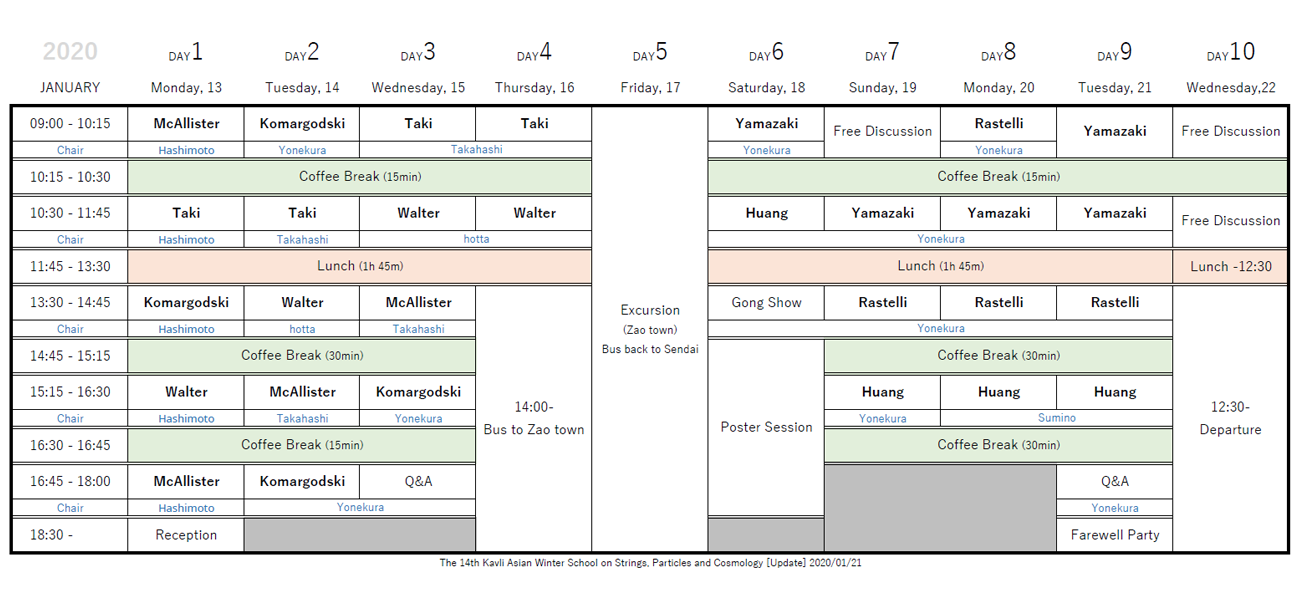 Click to PDF
Time Schedule
[Dec. 26, 2019 Updated]
Arrival

Sunday, January 12, 2020

15:00 – 18:00
Registration
Day 1

Monday, January 13, 2020

09:00 – 10:15
Liam McAllister (Cornell University)
10:15 – 10:30
Coffee Break
10:30 – 11:45
Masato Taki (RIKEN)
11:45 – 13:30
Lunch
13:30 – 14:45
Zohar Komardogski (Simons Center, Stony Brook University)
14:45 – 15:15
Coffee Break
15:15 – 16:30
Michael Walter (University of Amsterdam)
16:30 – 16:45
Coffee Break
16:45 – 18:00
Liam McAllister (Cornell University)
18:30 –
Welcome Reception
Day 2

Tuesday, January 14, 2020

09:00 – 10:15
Zohar Komardogski (Simons Center, Stony Brook University)
10:15 – 10:30
Coffee Break
10:30 – 11:45
Masato Taki (RIKEN)
11:45 – 13:30
Lunch
13:30 – 14:45
Michael Walter (University of Amsterdam)
14:45 – 15:15
Coffee Break
15:15 – 16:30
Liam McAllister (Cornell University)
16:30 – 16:45
Coffee Break
16:45 – 18:00
Zohar Komardogski (Simons Center, Stony Brook University)
Day 3

Wednesday, January 15, 2020

09:00 – 10:15
Masato Taki (RIKEN)
10:15 – 10:30
Coffee Break
10:30 – 11:45
Michael Walter (University of Amsterdam)
11:45 – 13:30
Lunch
13:30 – 14:45
Liam McAllister (Cornell University)
14:45 – 15:15
Coffee Break
15:15 – 16:30
Zohar Komardogski (Simons Center, Stony Brook University)
16:30 – 16:45
Coffee Break
16:45 – 18:00
Q&A
Day 4

Thursday, January 16, 2020

09:00 – 10:15
Masato Taki (RIKEN)
10:15 – 10:30
Coffee Break
10:30 – 11:45
Michael Walter (University of Amsterdam)
11:45 – 13:30
Lunch
14:00-
Excursion (Bus to Zao town)
Day 5

Friday, January 17, 2020

Excursion (Zao town, Bus back to Sendai)
Day 6

Saturday, January 18, 2020

09:00 – 10:15
Masahito Yamazaki (Kavli IPMU, The University of Tokyo)
10:15 – 10:30
Coffee Break
10:30 – 11:45
Yu-Tin Huang (National Taiwan University)
11:45 – 13:30
Lunch
13:30 – 14:45
Gong Show
14:45 – 18:00
Poster Session
Day 7

Sunday, January 19, 2020

09:00 – 10:15
Masahito Yamazaki (Kavli IPMU, The University of Tokyo)
10:15 – 10:30
Coffee Break
10:30 – 11:45
[CANCELED] Netta Engelhardt (Massachusetts Institute of Technology)
11:45 – 13:30
Lunch
13:30 – 14:45
Leonardo Rastelli (Stony Brook University)
14:45 – 15:15
Coffee Break
15:15 – 16:30
Yu-Tin Huang (National Taiwan University)
16:30 – 16:45
Coffee Break
Day 8

Monday, January 20, 2020

09:00 – 10:15
Leonardo Rastelli (Stony Brook University)
10:15 – 10:30
Coffee Break
10:30 – 11:45
[CANCELED] Netta Engelhardt (Massachusetts Institute of Technology)
11:45 – 13:30
Lunch
13:30 – 14:45
Leonardo Rastelli (Stony Brook University)
14:45 – 15:15
Coffee Break
15:15 – 16:30
Yu-Tin Huang (National Taiwan University)
16:30 – 16:45
Coffee Break
Day 9

Tuesday, January 21, 2020

09:00 – 10:15
Masahito Yamazaki (Kavli IPMU, The University of Tokyo)
10:15 – 10:30
Coffee Break
10:30 – 11:45
[CANCELED] Netta Engelhardt (Massachusetts Institute of Technology)
11:45 – 13:30
Lunch
13:30 – 14:45
Leonardo Rastelli (Stony Brook University)
14:45 – 15:15
Coffee Break
15:15 – 16:30
Yu-Tin Huang (National Taiwan University)
16:30 – 16:45
Coffee Break
16:45 –
Q&A
18:30 –
Farewell Party
Day 10

Wednesday, January 22, 2020

09:00 – 10:15
Masahito Yamazaki (Kavli IPMU, The University of Tokyo)
10:15 – 10:30
Coffee Break
10:30 – 11:45
[CANCELED] Netta Engelhardt (Massachusetts Institute of Technology)
11:45 – 12:30
Lunch
12:30 –
Departure
Order of Poster Presentations
[Dec. 23, 2019 Updated]
Adrian David (Okinawa Institute of Science and Technology)


Spinor-helicity variables for cosmological horizons in de Sitter space

Abstract

Akhil Sivakumar (International Centre for Theoretical Sciences)


Schwinger Keldysh effective action via holography.

Abstract

Alessandro Parisi (Tamkang University)


Fundamental oscillation modes of self-interacting bosonic dark stars

Abstract

Andrew Mcleod (University of Copenhagen)


Scattering Amplitudes Beyond Polylogarithms

Abstract

Aranya Bhattacharya (Saha Institute of Nuclear Physics, Kolkata)


Subregion Entanglement and Complexity in Thermally Perturbed CFTs

Abstract

Arnab Priya Saha (Harish-Chandra Research Institute, Allahabad)


Classical soft graviton theorem in four dimension

Abstract

Atis Yosprakob (SOKENDAI)


How standard model particles can be realized in the type IIB matrix model

Abstract

Boudhayan Paul (Indian Institute of Technology, Kanpur)


Holographic entanglement negativity for disjoint intervals in AdS3=CFT2

Abstract

Chandan Kumar Jana (International Centre for Theoretical Sciences)


Non-linear Fluctuation-dissipation relation via holography

Abstract

Changha Choi (Stony Brook University)


Phases of Two Adjoints QCD3 And Duality Chain

Abstract

Chi Zhang (Chinese Academy of Sciences)


Positive Geometry, Canonical Forms and Scattering Amplitudes

Abstract

Chongchuo Li (Utrecht University)


In_nite Distance Networks in Field Space and Charge Orbits

Abstract

Duy Tuan Nguyen (Vietnam Academy of Science and Technology)


Investigation of dark matter in the 3-2-3-1 model

Abstract

Himanshu Parihar (Indian Institute of Technology, Kanpur)


Entanglement negativity in Galilean conformal field theories

Abstract

Jinwei Zhu (Fudan University)


Generalizations of Reflected Entropy and the Holographic Dual

Abstract

Jue Hou (Peking University)


Asymmetric A-deformed cosets

Abstract

June Nahmgoong (Korea Institute for Advanced Study)


6d superconformal Cardy formulas

Abstract

Kai-Der Wang (National Taiwan University)


Non-vanishing of tidal Love numbers

Abstract

Kyoungho Cho (Sogang University)


Remarks on the non-Riemannian sector in Double Field Theory

Abstract

Lavneet Janagal (Korea Institute for Advanced Study)


Classifying and constraining local four photon and four graviton S-Matrices

Abstract

Lev Spodyneiko (California Institute of Technology)


Higher-dimensional generalizations of the Berry curvature

Abstract

Masataka Watanabe (Weizmann Institute of Science)


Chern-Simons-matter theory at large baryon number

Abstract

Matthew Dodelson (Kavli IPMU, The University of Tokyo)


High energy behavior of Mellin amplitudes

Abstract

Naotaka Kubo (Kyoto University)


Hanany-Witten Transition in Quantum Curves

Abstract

Noriaki Ikeda (Ritsumeikan university)


DFT in supermanifold formulation and group manifold as background geometry

Abstract

Nozomu Kobayashi (Kavli IPMU, The University of Tokyo)


The holographic dual of Lorentzian OPE blocks

Abstract

Parthiv Haldar (Indian Institute of Science)


Froissart-Martin Bound: A CFT Perspective

Abstract

Ping Kwan Man (Waseda University)


Double field inflation dynamics of a dilaton-axion like model with a new FI term

Abstract

Pei-Hung Yuan (University of Chinese Academy of Sciences)


Magnetic Catalysis through an Anisotropic Magnetic Field in a Holographic Soft-wall QCD Model

Abstract

Pranjal Pandey (Institute of Physics Bhubaneswar)


Modified celestial amplitude in Einstein gravity

Abstract

Pratik Nandy (Indian Institute of Science)


Renormalized Circuit Complexity

Abstract

Priyadarshini Pandit (Indian Institute of Technology Kharagpur)


N-Spike Strings in conformal gauge with mixed flux

Abstract

Shu-Yu Ho (Tohoku University)


Hidden Monopole Dark Matter via Axion Portal and its Implications for Direct Detection Searches, Beam-Dump Experiments, and the 𝑯𝟎 Tension

Abstract

Soumangsu Bhusan Chakraborty (Tata institute of fundamental research)


String and field theory techniques in TTbar and related deformations

Abstract

Sourav Ballav (The Institute of Mathematical Sciences, Chennai)


Surface operators in N = 2 SQCD and Seiberg duality

Abstract

Stephen Andrew Angus (Ewha Womans University)


O(D,D) completion of the Friedmann equations

Abstract

Suting Zhao (Wuerzburg University)


Applying the Iyer-Wald Formalism to Cosmic Censorship

Abstract

Swayamsidha Mishra (National Institute of Science Education and Research)


Quantum Fields in Curved Spaces and Holography

Abstract

Takayuki Sumimoto (Osaka University)


Meson Spectrum in Holographic QCD and Deep Learning

Abstract

Thong Tran Quang Nguyen (Institute For Interdisciplinary Research in Science and Education )


Scattering of proton proton to leptons in Standard Model

Abstract

Tomotaka Kitamura (Rikkyo University)


Enhanced Softness in TJ^{bar} deformed Field Theory

Abstract

Toshihiro Ota (Osaka University)


Integrability from Line Defects in M-theory

Abstract

Tzu Chen Huang (Caltech)


Bounds from UV completions

Abstract

Wei Li (National Taiwan University)


The geometry of optimal functionals

Abstract

Wenhe Cai (Hanyang University)


Diffusion in higher dimensional SYK model with complex fermions

Abstract

Wenliang Li (Okinawa Institute of Science and Technology Graduate University)


Closed-form expression for cross-channel conformal blocks near the lightcone

Abstract

Yasunori Lee (Kavli IPMU, The University of Tokyo)


Matching higher symmetries across Seiberg duality

Abstract

Yehao Zhou (Perimeter Institute for Theoretical Physics)


On the Existence and Uniqueness of Closed Superstring Vertices

Abstract

Yiqiang Du (Hanyang University)


Holographic Superfluid Solitons with Backreaction

Abstract

Yuan Zhong (Tsinghua University)


Modular Hamiltonian in (W)AdS/WCFT

Abstract

Yue-Zhou Li (Tianjin University)


Heavy-light Bootstrap from Lorentzian Inversion Formula

Abstract

Masroor C. Pookkillath (Kyoto University)


Baryon Physics and Tight Coupling Approximation in Boltzmann Codes

Abstract

Order of Gong Show

[Dec. 23, 2019 Updated]

Adrian David (Okinawa Institute of Science and Technology)
Akhil Sivakumar (International Centre for Theoretical Sciences)
Andrew Mcleod (University of Copenhagen)
Aranya Bhattacharya (Saha Institute of Nuclear Physics, Kolkata)
Arnab Priya Saha (Harish-Chandra Research Institute)
Atis Yosprakob (SOKENDAI)
Boudhayan Paul (Indian Institute of Technology, Kanpur)
Chandan Kumar Jana (International Centre for Theoretical Sciences)
Changha Choi (Stony Brook University)
Chongchuo Li (Utrecht University)
Himanshu Parihar (Indian Institute of Technology, Kanpur)
Jinwei Zhu (Fudan University)
Jue Hou (Peking University)
June Nahmgoong (Korea Institute for Advanced Study)
Lev Spodyneiko (California Institute of Technology)
Masataka Watanabe (Weizmann Institute of Science)
Matthew Dodelson (Kavli IPMU, The University of Tokyo)
Naotaka Kubo (Kyoto University)
Noriaki Ikeda (Ritsumeikan university)
Nozomu Kobayashi (Kavli IPMU, The University of Tokyo)
Parthiv Haldar (Indian Institute of Science)
Ping Kwan Man (Waseda University)
Pranjal Pandey (Institute of Physics Bhubaneswar)
Pratik Nandy (Indian Institute of Science)
Priyadarshini Pandit (Indian Institute of Technology Kharagpur)
Sourav Ballav (The Institute of Mathematical Sciences, Chennai)
Suting Zhao (Wuerzburg University)
Swayamsidha Mishra (National Institute of Science Education and Research)
Takayuki Sumimoto (Osaka University)
Thong Tran Quang Nguyen (Institute For Interdisciplinary Research in Science and Education)
Tomotaka Kitamura (Rikkyo University)
Toshihiro Ota (Osaka University)
Tzu Chen Huang (Caltech)
Wenliang Li (Okinawa Institute of Science and Technology Graduate University)
Yehao Zhou (Perimeter Institute for Theoretical Physics)
Yuan Zhong (Tsinghua University)
Yue-Zhou Li (Tianjin University)

Participants List

[Dec. 23, 2019 Updated]

Download [PDF]

Hotels

Following is the list of hotels near the Center.

*There is no information available in English on their websites.

Local Organization Committee

・Koji Hashimoto (Osaka University )

・Yoshihisa Kitazawa (KEK )

・Yoshiaki Maeda (Tohoku University )

・Hirosi Ooguri (Caltech & Kavli IPMU )

・Fuminobu Takahashi (Tohoku University )

・Ryo Takahashi (Tohoku University )

・Kazuya Yonekura (Tohoku University )

・Bin Chen (Peking University )

・Rajesh Gopakumar (International Centre for Theoretical Sciences-Tata Institute of Fundamental Research )

・Koji Hashimoto (Osaka University )

・Yoshihisa Kitazawa (KEK )

・Bum-Hoon Lee (Sogang University )

・Kimyeong Lee (Korea Institute for Advanced Study )

・Miao Li (Institute of Theoretical Physics, Chinese Academy of Sciences & Sun Yat-Sen University )

・Jianxin Lu (University of Science and Technology of China )

・Soonkeon Nam (Kyung Hee University )

・Hirosi Ooguri (Caltech & Kavli IPMU )

・Ashoke Sen (Harish-Chandra Research Institute )

・Sang Jin Sin (Hanyang University )

・Spenta Wadia (International Centre for Theoretical Sciences-Tata Institute of Fundamental Research )

・David Gross (Kavli Institute for Theoretical Physics )

・Andrew Strominger (Harvard University )

・Hirotaka Sugawara (OIST )

・Shing-Tung Yau (Harvard University )

・Sujay Ashok (Institute of Mathematical Sciences )

・Abhijit Gadde (Tata Institute of Fundamental Research )

・Min-xin Huang (University of Science and Technology of China )

・Keun-Young Kim (Gwangju Institute of Science and Technology )

・Sungjay Lee (Korea Institute for Advanced Study )

・Tadashi Takayanagi (Yukawa Institute for Theoretical Physics )

・Masahito Yamazaki (Kavli IPMU )

・Gang Yang (Institute of Theoretical Physics, Chinese Academy of Sciences )

Application

[Oct. 10, 2019 Updated]

Closed


・Kavli Foundation

・Kavli Institute for the Physics and Mathematics for the Universe, University of Tokyo (IPMU)

・Tohoku Forum for Creativity, Organization for Research Promotion, Tohoku University (TFC)

・Graduate Program on Physics for the Universe, Tohoku University (GPPU)

・Sendai Tourism, Convention and International Association (SenTIA)

Poster

[Sep. 20, 2019 Updated]

Download [PDF]

Contact

[Sep. 09, 2019 Updated]

Email: tfc_kavli2020*ml.tohoku.ac.jp (change * to @)